Wait! Did you hear that? Yes — it's the sound of sleigh bells in the distance. And each day they're getting closer. Which means it's time to post the annual TheSkiDiva Holiday Gift Guide, filled with lots of great things you might want to ask Santa to bring down your chimney or the chimney of someone you love. So without further ado, here are some great gift ideas for this year:
Ski Art Prints
What skier wouldn't want to decorate her home with unique ski art prints from WildBlueDream.com. Available prints feature a broad range of ski areas in a variety of designs and colors, all printed on high quality, heavy-weight paper using archival inks. Some can even be personalized with your family's name.
Vintage Graphic Top
This. Is. Adorable. And sure, it shows snow shoeing instead of skiing, but hey, there's snow, it's an outdoor winter activity, and it's amazing. A mid-weight zip neck that's a blend of a blend of silk, Merino and Lycra. From Titlenine.com.
Cold Weather Cell Phone Survival Kit
If you've ever had your phone run out of juice on the mountain, you'll know why I love this. The Cold Weather Mobile Phone Survival Kit by Therma-Phone keeps your phone working under extreme temperature conditions. It actually acts like a flexible stainless steel thermos, retaining heat when it's cold and reflecting heat when it's hot. *Here's an extra bonus: Therma-Phone has provided a special discount for members of TheSkiDiva: $11.95 off plus free shipping. Use coupon code skidiva2016, and the discount will show up after you place your order.
Ski Wine Glass Charms
These are cute and inexpensive: charms you can put on the stem of a wine glass to identify whose glass is whose. Let's see, are you difficult, average, or easy? Or do you need help? Available at TheConvertibleGirlShop on etsy.
Boot Glove
A long time favorite of the members of TheSkiDiva.com, Dry Guy's Boot Glove provides an extra layer of insulation over your boots to keep your feet warm. I've been a user for years. Highly recommend.
Ski Diva Sweater Fleece
Show the world you're a Ski Diva with this full zip sweater fleece. I have this exact garment and wear it all the time over a lighter layer and under a jacket. A great layering piece that's comfortable, stylish, and warm. Go here to order.
Sorel Joan of Arctic Winter Boot
For anyone who's a fan of warm feet, Sorel's Joan of Arctic boots are the bomb! Featuring waterproof, full-grain leather and suede upper, super-soft faux fur around the cuff with a removable, recycled felt inner boot to ensure that feet stay warm, dry and comfortable.
Razor Carbon Pro Ski Poles
Anyone who skis the backcountry deserves these poles. If you fall or get caught in a slide, normal pole straps can anchor you facedown in the snow. These poles feature breakaway straps that give you power when you need it and keep you safe when things go awry. The adjustable flick locks and low swing weight are bonuses. From Black Diamond.
Ski Poster Puzzle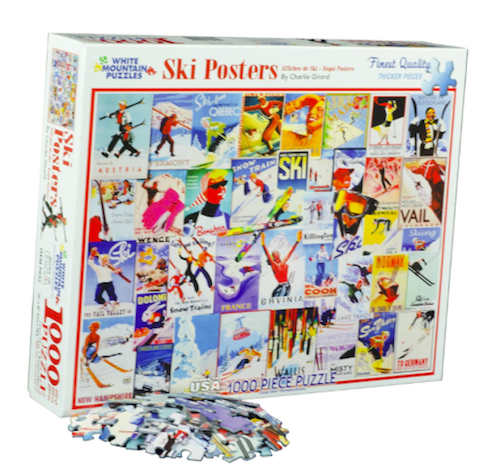 In a digital age, it can be hard to remember how much fun it is to spend a happy evening working on a puzzle. Here's one the whole family will enjoy: White Mountain Puzzles Ski Posters Puzzle, featuring vintage posters of North American and European ski areas. Which ones have you skied?
Adventure Weekender Bag
The perfect bag for a weekend getaway with the girls, the Adventure Weekender Bag from Neve Designs features limited edition artwork inspired by vintage ski posters. Fully lined and made with canvas construction, the bag is finished with leather handles, and has a removable leather shoulder strap.
Beartooth Device
I'm giving a qualified recommendation for this, since it's very, very new. Still, it looks so cool that I couldn't resist including it here. The Beartooth Device is great for when you're on the hill and don't have cell service or internet — because it doesn't require either. What it does is convert your Smartphone into a two-way radio, so you can communicate with other Beartooth users by either voice or text, up to ten miles away. It can also serve as a back-up battery for your cell phone.
Ski Diva Mystery Books
Shameless self-promotion alert: Both of these are by me. First published by Minotaur Books in 2010 and 2011 respectively, Double Black and Fade to White are fun mysteries for skiers and non-skiers alike.
Here's a description of Double Black:
In DOUBLE BLACK, Boston's twenty-something Stacey Curtis ditches her cheating fiance and heads for a Vermont ski town. She's looking for the life she's always dreamed about, but she stumbles instead into financial intrigue, bitter family warfare, and murder. Populated with quirky characters, loaded with New England atmosphere, and starring a young woman with nerve, spunk, and a sense of humor about it all, DOUBLE BLACK is an exciting run down some treacherous mountain trails.
And here's Fade to White:
Hollywood has-been Harper Stone arrives in Stacey's little Vermont town to shoot a mouthwash commercial, and he's anything but happy about the downward spiral his career has taken. When the ornery actor turns up dead a few days later—and the last person to see him alive turns out to be Brian Russell, Stacey's jealous ex-fiancé—things start getting complicated. 
You can get the softcovers and e-book at Amazon.com, B&N.com, Kobo.com, iBooks, and of course, at wendyclinch.com.
If you'd prefer a personally signed hardcover, you can get that at wendyclinch.com, too.
Join The Ski Diva
Since 2006, we've been dedicated to providing a place where women can talk about skiing in a way that's comfortable and respectful.
Whether you're just getting started or ski 100 days per season, our community of thousands of women skiers can help you find the information you need.
Join the Community