Unless you've been waaaay out in the backcountry and completely cut off from any sort of civilization, you know that the holiday season is coming. Sure, there's been Christmas stuff in stores since even before Halloween, and though IMHO that was wildly inappropriate, I think it's safe to say the shopping season has begun.
So what do you say, Divas? Have you been naughty or nice? If it's the latter, here are a few things you might want to put on your list. And if it's the former, well, you still need to buy gifts for the other Ski Divas in your life. So here are a few things I've come across that you might want to consider:
Ski-Themed Dinnerware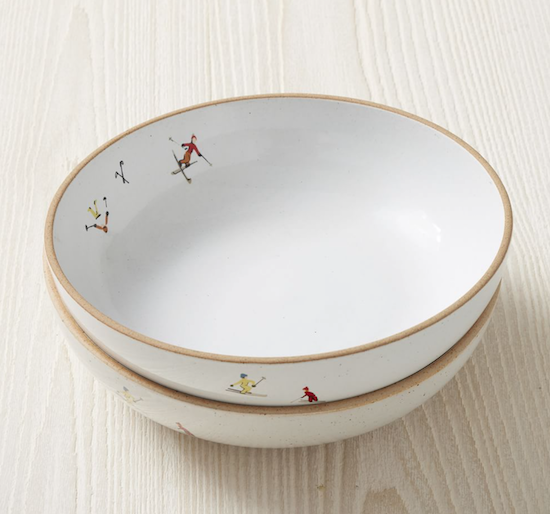 There's not much better after a day on the slopes than a nice bowl of soup. Or chili. Or pasta. Whatever you eat, it'll taste a lot better in these clever bowls from WestElm.com. Measuring 8″ diam. by 2″ high, they're made of stoneware, hold 30 fl. oz., and are sold individually or in a set of four. (There are ski-themed plates and mugs, too, so check them out!)
Sherpa Lined Ski Boot Socks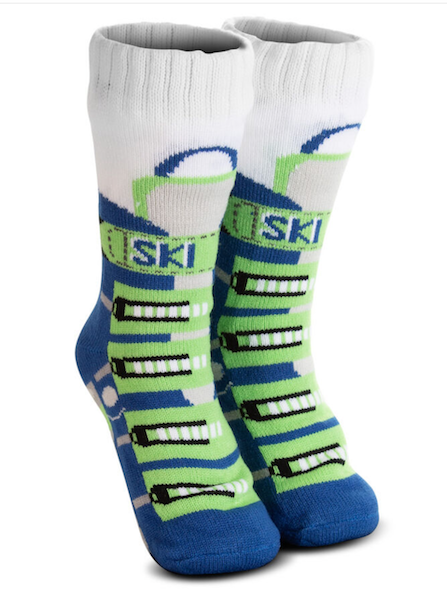 If you love how your feet feel when you take your ski boots off, think of how great they'll feel when you put these ski boot socks on. These feature non-slip grippy soles and a sherpa lining. Available in large and small sizes.
Chaval SuperNova Mittens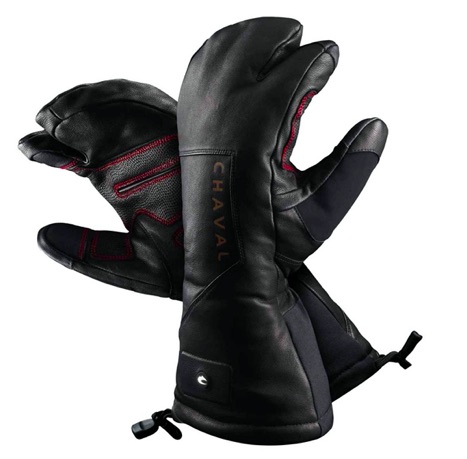 I'm beginning to sound like a broken record because this is the third time these have made TheSkiDiva holiday gift guide. But trust me, they're that good. Your hands will thank you for the Chaval SuperNova mittens. Head and shoulders above any heated mitt on the market today. See my review on these here.
Burton Cora Hood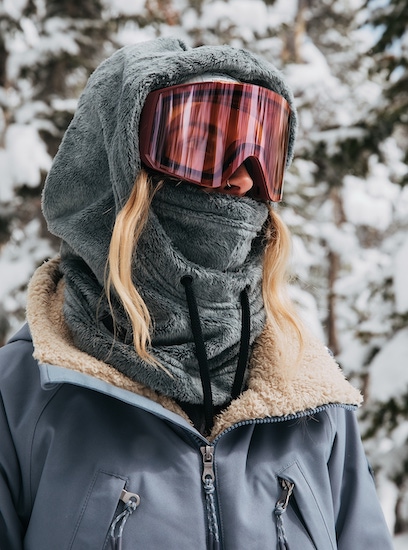 I saw these on the hill quite a bit last year, with good reason. Burton's Cora Fleece Hood goes over your helmet to provide extra warmth on those extra cold days.  Made of DRYRIDE Thermex shaggy polyester fleece and is ultra-soft, highly breathable, waterproof, and quick-drying. 
Women's Fernos Insulated Knicker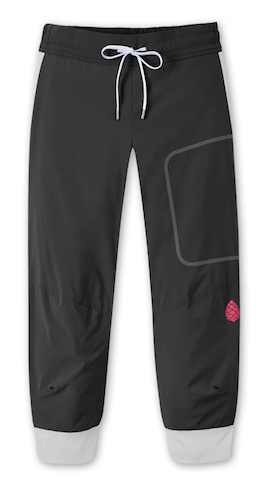 Wear these under your ski pants, and  you'll never have a cold derriere again. This articulated, cropped length midlayer hits right above ski boots and has 40g insulation that adds warmth while allowing airflow. From Stio.
Merrell Shiloh Boots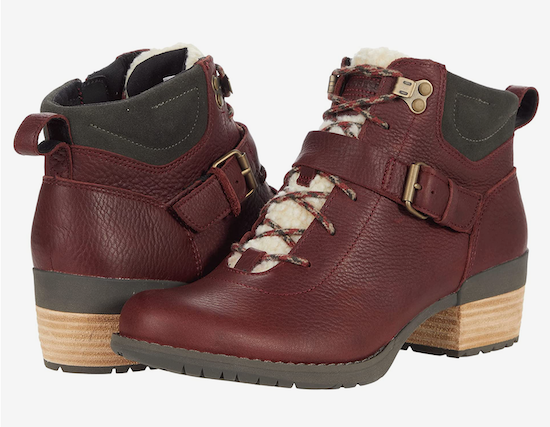 I've been very, very good this year, so listen up, Santa, because the Merrell Shiloh II Lace Up Boots are on my personal wish list. First of all, they're RED, which happens to be my favorite color. Second, they're waterproof. And third, look at that fleece! From Merrell, so you know they're good.
Kulkea Thermal Trekker Heated Boot Bag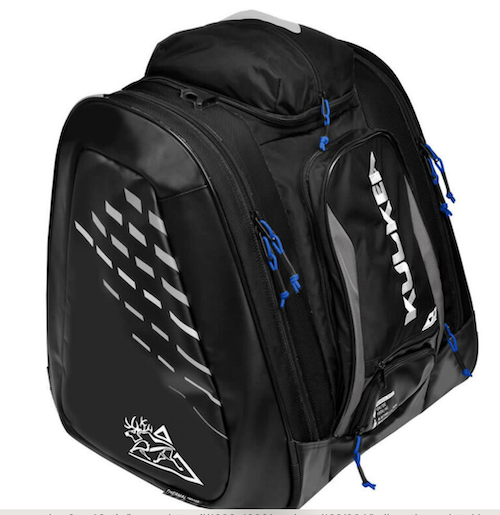 Ever put on a pair of cold ski boots? Not fun, is it? With Kulkea's Thermal Plus Bag, boots arrive at the slope warm and ready to go.  Features three heat settings, wall and auto plug ins, an intuitive packing system with plenty of room for everything you need, and sturdy, quality construction.
Aleck 006 Wireless Helmet Audio System
The Aleck 006 goes beyond other helmet audio systems. Sure, it offers wireless connectivity so you can listen to music, answer phone calls, or activate Siri or Google Assistant. Others do that. But then it amps it up with some really cool features: Super easy bass and treble control for outstanding audio. a walkie-talkie system that lets you communicate with friends, and GPS so you can find them, no matter where they are on the mountain.  Ultra cool.
Poweradd Energycell 10000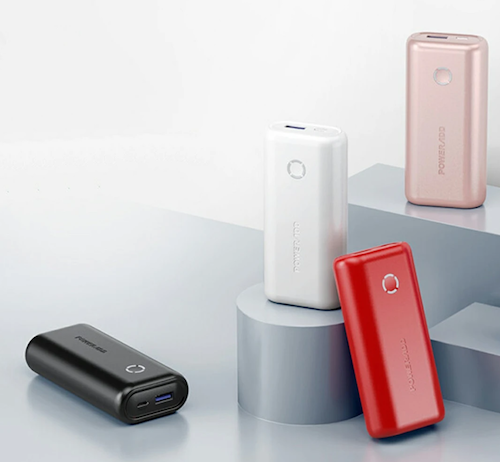 Cold weather can really drain your cell phone battery, so it helps to have a charger on hand. The trouble is finding one that doesn't take up a lot of room in your pocket. That's why the Poweradd Energycell 1000 is the perfect gift. Measuring only 0.98 x 1.95 x4.05 inch, and weighing just 6 ounces, it's compact, lightweight, and compatible with a wide range of cell phones.
Skier Note Cards
In an age of email and texting, a handwritten note really stands out. These vintage-looking cards, printed on 100-lb heavy weight acid-free stock, measure 5.5′" x 4″, come with matching envelopes, and are available in packs of 8, 12, or 25.  Get these for someone, and maybe they'll use them to write you a thank you note! From mercantile posters on Etsy.
Ski Poster Trio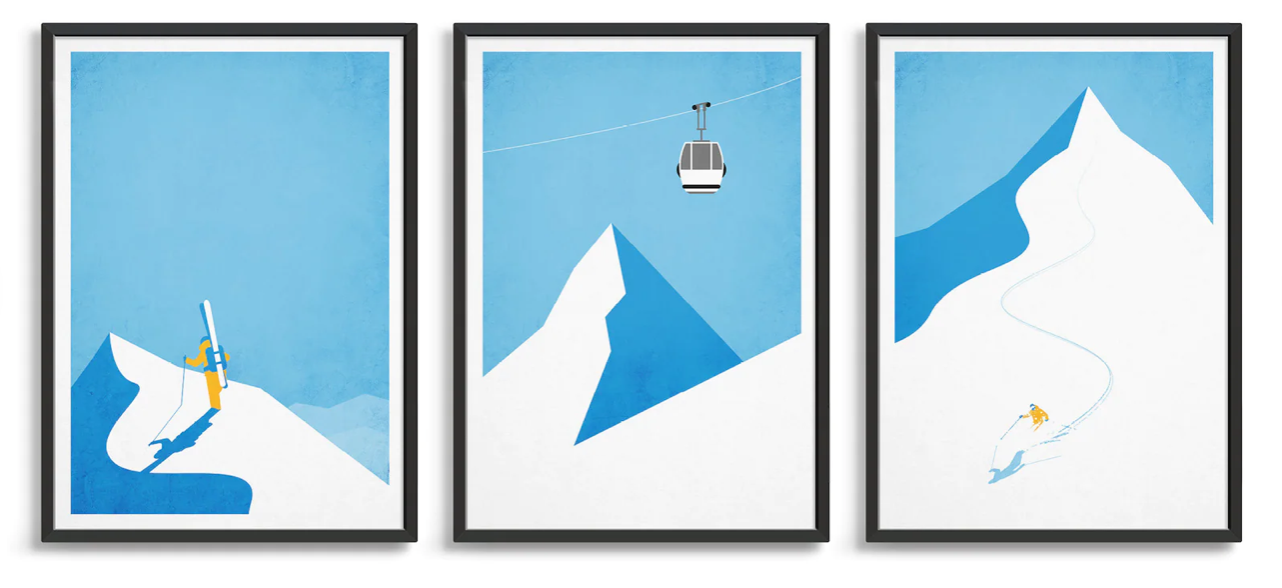 Ski art is always fun to hang on the wall. And while there are loads of ski posters around, these three caught my eye. Printed to order on premium heavyweight paper, they look great either together or separately. From RocketJacketDesign on etsy.com.
Books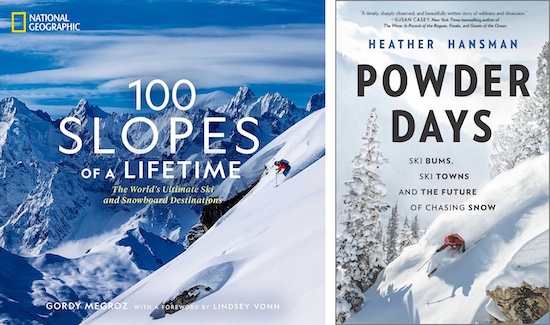 I'm recommending four ski books this year. The first is 100 Slopes of a Lifetime: The World's Ultimate Ski & Snowboard Destinations, by Gordy Megraz. Filled with beautiful National Geographic photography,  travel information, and practical tips, 100 Slopes offers tips and information on skiing the best slopes around the world. Featuring a foreword from Lindsey Vonn, the book is divided by interest and skill level to you find the perfect destination.
The second book is by Outside writer and ski journalist Heather Hansman. Powder Days: Ski Bums, Ski Towns, and the Future of Chasing Snow is a look at the hidden history of American skiing. Hopping from Vermont to Colorado, Montana to West Virginia, Hansman profiles people who have built their lives around skiing. She also delves into skiing's problematic elements and investigates how the sport is evolving in response to climate change.
Books three and four are Ski Diva mysteries: Double Black and Fade to White. Yes, full disclosure: They're both written by me. Each features the same main character: Stacey Curtis, a young ski bum who left her cheating fiancee in Boston to pursue the life of a ski bum in a small ski town in Vermont. There, she encounters adventure, love, and yes, even murder. Fun reads to get you in the mood for skiing.
And last, here's a  book that has nothing to do with skiing: Marley, by none other than my husband,  award-winning novelist Jon Clinch.  You know the ghost from Charles Dickens' The Christmas Carol? Ever wonder why he died, what his relationship was with Ebenezer Scrooge, and what made him such a tortured soul? Wonder no more. Marley gives you the backstory, and it's a doozy. Marley came out in 2019 in hardbound — the paperback release was in 2020 — and received outstanding reviews, including a rave in the NY Times.  Jon is also the author of Finn, which was named one of 2007's best novels by the Washington Post, the Chicago Tribune, and the Christian Science Monitor, as well as Kings of the Earth (an Oprah summer reading list pick in 2010!) and The Thief of Auschwitz.
Join The Ski Diva
Since 2006, we've been dedicated to providing a place where women can talk about skiing in a way that's comfortable and respectful.
Whether you're just getting started or ski 100 days per season, our community of thousands of women skiers can help you find the information you need.
Join the Community