Mention Aspen, and what comes to mind? Movie stars, millionaires, plenty of glitz and glamor.
But here's something new to add to the list: The Ski Divas! Because this year, TheSkiDiva.com held Diva West, our annual Western gathering, at Aspen Snowmass. And like all the others that've come before, it was an absolute blast!
Diva West is the one time of the year we come together to meet one another in person; to connect a living, breathing person with a user name. And sure, while the skiing is important, even more important is enjoying the camaraderie of women with a shared passion. These annual meet-ups have helped forge bonds that have resulted in a genuine community, both on and off the slopes. It's one of the things that makes TheSkiDiva such a great place to hang out.
This year's Diva West at Aspen Snowmass was no different. Besides the fun of just getting together, there was a lot to love about the mountain, too. Here are some of the things we particularly enjoyed:
The size:
Snowmass is Snowmassive! The resort has a total of 3,332 skiable acres: a third more skiable terrain than the other three Aspen areas combined. Seriously, you will not get bored. We skied Snowmass four out of the six days we were in Aspen, and regrettably, there's a lot of the mountain I missed. Guess I'll just have to come back.
The views:
Incredibly beautiful. I'll let the pictures speak for themselves.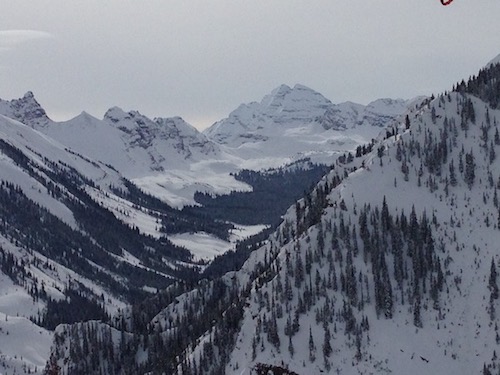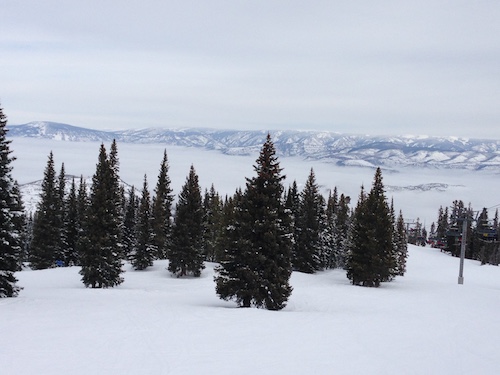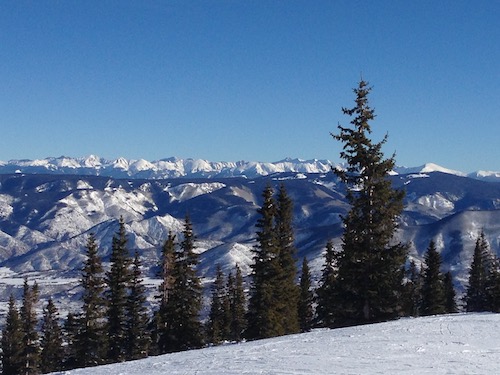 And that's just a sample. Everywhere I turned, I wanted to take a picture. But somehow, skiing got in the way.
There are three other mountains to try:
Sure, Snowmass is amazing and has more than enough to keep you busy. But how could we resist the allure of Aspen Highlands? You can ski Snowmass, Aspen, Highlands, and Buttermilk on the same ticket. Definitely worth exploring.
The shuttle system:
No matter where you want to go in the Aspen area, there's a free bus to take you there. RFTA makes it easy to go from Snowmass to Buttermilk to Aspen to the Highlands, as well as to downtown Aspen and Snowmass Village. Honestly, you don't need a car, so why go through the expense?
Forget about lugging your skis:
Skiing at one of the Aspen mountains one day and want to ski at another the next? No problem. Aspen makes it easy. For a modest fee ($10.), they'll transfer your skis from one mountain to the other. We spent a day skiing at Snowmass and knew we wanted to ski at Aspen Highlands the following day, so we just dropped off our skis at the Ski Concierge, and like magic, they appeared at Highlands the next morning. Sweet!
There's terrain for everyone: 
Not everyone skis at the same level, and at Snowmass, this is easy to accommodate. Some in our group loved the Big Burn area, with its wide open groomers and widely spaced trees. Others enjoyed the Powerline Glades and Long Shot, Snowmass's signature 3 mile trail that goes on and on and on and on. At Highlands, there's the famous Highland Bowl (Fact worth knowing: there's a free cat that'll take you part of the way up, so you can skip the hike). So there's something for everyone.
The on-mountain food:
Aspen Highlands and Snowmass all have a good selection of on-mountain food. Yeah, it's bit pricey, but the variety and quality are excellent. We checked out three of the on-mountain eateries at Snowmass –Elk Camp, the Ullrhof, and Gwyn's. At Highlands, we lunched at the Merry-Go-Round.
The town:
A trip to Aspen isn't complete without a stroll downtown. And sure, you could easily blow a thou' on a pair of ski pants, you don't have to be a millionaire to browse. The people watching is pretty incredible, too. Let's just say it was pretty clear I wasn't in Vermont.
Just plain getting together:
This was the 12th Diva West, and I've never failed to be totally blown away by the strength, enthusiasm, and kindness of the women on the site. And though I was thrilled to be at Aspen Snowmass, the venue was truly secondary. The women are the heart and soul of the the site, and I'm truly honored that they took the time out of their busy schedules to get together. Let's do it again next year!
And don't forget skiing with Didi Lawrence!
Didi Lawrence is a world class skier and instructor who teaches at Aspen Highlands (fun fact: she's also the daughter of Andrea Mead Lawrence, three-time Olympian and first American alpine skier to win two gold medals) . A long-time friend of the site, she spent the day skiing with some of us at Aspen Highlands (I interviewed her in 2007, shortly after she skied Annapurna, one of the world's least climbed mountains). Yet even though it was her day off, she provided us with some invaluable tips and feedback. Didi teaches private lessons and a variety of clinics at Highlands, and I can't recommend her highly enough. If you're planning a trip to Aspen Highlands and are looking for an ace instructor, be sure to contact Didi. You won't regret it.
Join The Ski Diva
Since 2006, we've been dedicated to providing a place where women can talk about skiing in a way that's comfortable and respectful.
Whether you're just getting started or ski 100 days per season, our community of thousands of women skiers can help you find the information you need.
Join the Community