Wait! Did you hear that? Yes — it's the sound of sleigh bells in the distance. And each day they're getting closer. Which means it's time to post the annual Ski Diva Holiday Gift Guide, filled with lots of great things you might want Santa to bring down your chimney or the chimney of someone you love. So without further ado, here are some great gift ideas for whatever you celebrate:
Chaval SuperNova AlphaHeat Heated Mittens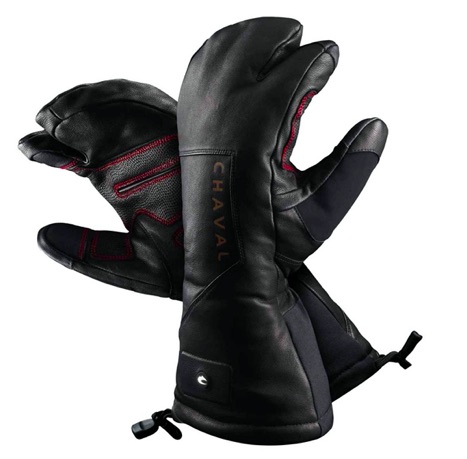 I reviewed these right after I compiled my gift list last year, and let me tell you, for anyone who suffers from cold hands, these are da bomb! Chaval may not be as big as the other mitten or glove guys, but they've figured out how to do heated gloves right. Sure, the SuperNova's a bit pricey, but take it from someone who suffers from cold digits: they're worth it. Buy direct from the company here.
Hooey Mountain Photographs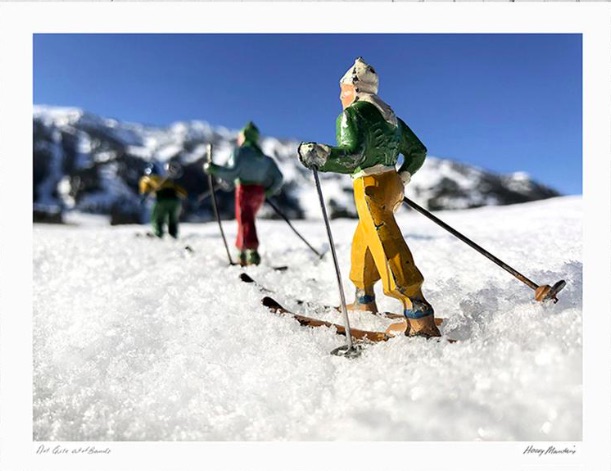 This is just plain fun. HooeyMountain takes vintage toy skiers and photographs them in all sorts of imaginative skiing situations. The results are available as photographs, stationary, or greeting cards. You can find them here.
Kulkea Talvi X Boot Bag
Here's another item I reviewed this year: Kulkea's Talvi X Boot Bag. I seem to have a Kulkea item on my gift list every year, but there's a good reason: the company makes great bags. The Talvi X isn't new, but it's now available in more colors. I love how it's plenty roomy without being too hard to manage. High quality construction, rugged, and durable, this is a great bag to give as a gift. For more information, go here.
Smith I/O MAG S Snow Goggles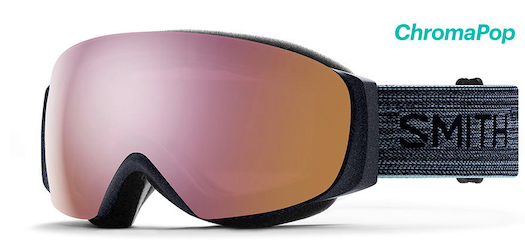 If you find switching lens in and out a bit of a problem,  the Smith I/O MAG S is for you. The magnetic lenses are super easy to change. No worries about lens security, either: Two locking mechanisms built into the outriggers keep the lenses locked in place. And the optics are great, too: ChromaPop™ lenses offer a wide field of view and clarity across a greater range of lighting conditions. Go here.
Dry Sure Boot Dryers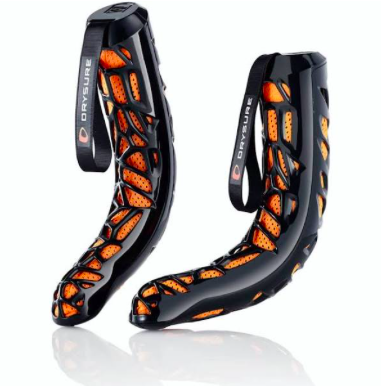 If you want to dry your boots but don't feel like packing your boot dryer, here's an alternative: Dry Sure Boot Dryers. No electricity or batteries required, no need to remove your liners. The Dry Sure Boot Dryers uses moisture-absorbing silica oxide beads to naturally dry out footwear, removing moisture, sweat and odor. They're reusable, too.
Gone Skiing Low Top Sneakers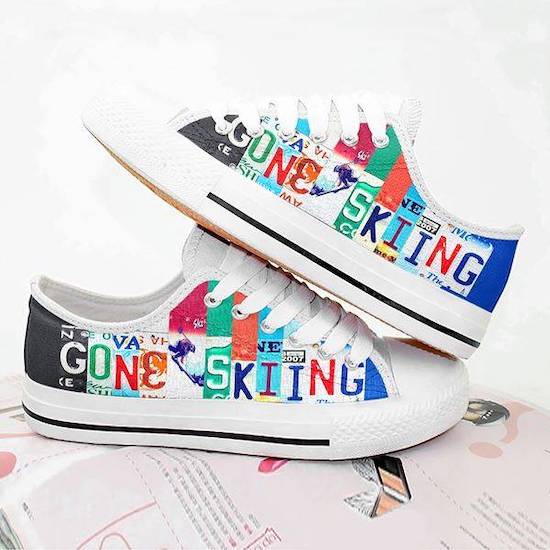 I got a pair of these over the summer, and they never fail to attract a lot of attention. These sneaks are a great choice for anyone who loves skiing. Cute and comfortable: a great combination. Order here.
Popia Hats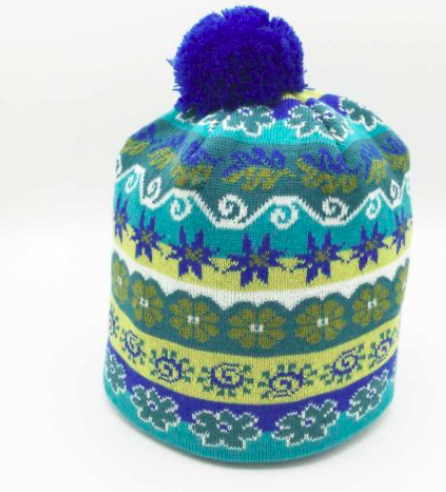 I've fallen in love with Popia hats. And why not; they're adorable! Made in Vermont by Poppy Gall, who co-founded Isis for Women, the first women's-only outdoor clothing company in the US, the hats are made in small batches using super soft merino wool blended yarns. There's a nice variety of designs to choose from. Go here.
Snug as a bug in a……..
Got a ski house? Have I got a rug for you! Made by Peking Handicrafts, the Skis and Poles Hooked Rug measures 2.5′ x 3.3′ and is made of 100% wool. You can find it on Wayfair.
Love Ski Sweater
Tired of your standard layering piece? Then try this one on for size, from Newland. Good for apres ski, too, or whenever you want to show the world how much you love our favorite sport.  Quarter-zip neck, lots of love along the bottom.
Ski Chair
Okay, not the least expensive present out there. But I saw these at the Boston Ski and Snowboard Expo and was impressed not just with the subject matter (of course), but with the quality and craftsmanship of the chair. 100% handmade in the USA by a Skichair artisan with five-quarter inch Port Orford Cedar, the finest most durable material for outdoor use, and assembled with stainless steel fasteners For more information, go here.
Books
I have a few of these to recommend, starting with MARLEY, by — full disclosure — my husband, Jon Clinch.  You know the ghost from Charles Dickens' The Christmas Carol? Ever wonder why he died, what his relationship was with Ebenezer Scrooge, and what made him such a tortured soul? Wonder no more. This book gives you the backstory, and it's a doozy. MARLEY has been getting outstanding reviews, including a rave in the NY Times.
Second book: SNOW, by Giles Whittell. Snow tells you everything you can think of about well, snow, but never in a way that's dry or boring.  Want to know the science behind snow, where the legend of the yeti comes from, how to build an igloo, or whether or not Eskimos really have 100 words for snow? It's here, along with multiple stories about historic blizzards, avalanches, downhill races, and Olympic games.. A very fun, very informative book.
And third, THE MAN BEHIND THE MAPS, the new gorgeous coffee table by famed ski map illustrator, James Niehues. For over 30 years, James has illustrated trail maps for ski resorts all over the world.  Each trail map is a work of art. A must for anyone who loves skiing.
Lego Ski Resort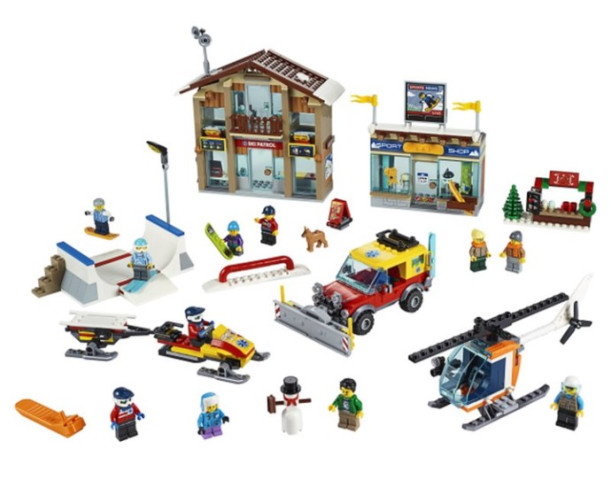 You don't have to be a little kid to want to play with the LEGO Ski Resort. The set includes 806 pieces along with eleven mini figures: 3 ski patrol members, a ski shop clerk, helicopter pilot, skier, snowboarder, 2 kids, a hot drinks stand clerk and customer, plus dog and buildable snowman figures. There's also a rescue base, a half-pipe and grind rail, a ski shop, a hot drinks stand, a helicopter toy, a 4×4 truck and a snowmobile with an attached trailer. Fun!
Join The Ski Diva
Since 2006, we've been dedicated to providing a place where women can talk about skiing in a way that's comfortable and respectful.
Whether you're just getting started or ski 100 days per season, our community of thousands of women skiers can help you find the information you need.
Join the Community