It's a new year, and I'm sure one of your top resolutions is to take better care of your skin, right?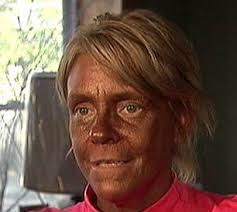 Sure, it is. Well, maybe not. But really, it should be. Skin cancer is a real danger, particularly for those of us who enjoy outdoor activities. I've written about this before (The Dark Side of Tanning), and believe me, you don't want to end up looking like the infamous "tanning mom" in New Jersey.
You have to protect yourself. But this isn't as easy as it sounds. The number of sunscreen products out there is mind boggling. So how do you know which one to choose?
The best way is to give them a try. So when MDSolarSciences got in touch with me to review their sunscreen, I said sure. MDSolarSciences is a physician founded and operated company. Their products are sold primarily in doctor's offices and med and skin spas. So I was curious.
To put it to the test, I gave the assignment to Altagirl, one of the moderators at TheSkiDiva.com forum. She lives and skis in Utah. It's a lot sunnier out there than it is here in nearly constantly cloudy New England. Plus she's super particular about what she puts on her skin, another good element for the test.  Here's what she said:
I used the Mineral Screen Tinted Gel [SPF 30] all weekend, which felt really nice, and didn't get any sun or windburn. It blends in very nicely and makes my skin feel soft. I tend to not even like wearing any sort of foundation because I feel like it looks or feels strange, but this felt and looked very natural. No crazy fragrances – barely any noticeable smell at all, which I really appreciate. I'm pretty picky on ingredients and only use mineral sunscreens like this because I'm skeptical about the safety of oxybenzone and other such chemicals on my skin. So I like their ingredient list, too; a big thumbs up from me for that.
My husband used the Natural Mineral Sunscreen Stick [SPF 40], which he initially complained went on white, but it rubbed in easily. We've tried other zinc oxide products that make you look like a ghost, or come out of the tube lumpy and gloppy and are very difficult to get spread out evenly on the skin, but this actually blended in easily and felt very nice. The  extent of his review was "It's good," but he's had a list of complaints about other sunscreens that make his skin feel sticky or look unnaturally white, or that don't go on smoothly, or smell bad.  There are stick sunscreens we've used that are hard to apply, to the extent where I feel like I'm giving myself wrinkles by trying to get it onto my skin, and lots of them that make me feel like I need to wash my hands after applying because they make my skin feel sticky. Both of these products feel exceptionally good on the skin – no sticky residue. I didn't notice any transfer of the product onto my clothes, either.
I really like MDSolarSciences products.  They're better than most products, and I'd say equal to the very top-end things I've used. Adding in pricepoint, I'd honestly rate their tinted sunscreen gel as the best I've ever tried. I think it compares very favorably to high end medical spa type sunscreen products that I've tried.
Their stick sunscreen really does go on exceptionally nicely, even when it's cold and has been stored in the freezing car overnight. Some of them just don't want to spread off of the stick when they are cold, but their's does. I'm not sure how it will hold up in the heat of summer – if that means on a hot day the stick would be a puddle, but it seems to apply as well at room temperature as at about 20 degrees, so that's definitely a plus.
I would actually buy both the stick and the mineral screen tinted gel in the future. I have a stack of sunscreens that I've used a couple times and wouldn't buy again, so that's saying something.
You can find out more about MDSolarSciences Sunscreens here. There's also some good information about choosing a sunscreen, sunscreen facts,  proper sunscreen application, and skin cancer, so check it out.
Join The Ski Diva
Since 2006, we've been dedicated to providing a place where women can talk about skiing in a way that's comfortable and respectful.
Whether you're just getting started or ski 100 days per season, our community of thousands of women skiers can help you find the information you need.
Join the Community