One of the perks that come with being a member of Columbia Sportswear's Omniten team is that they sometimes send me cool gear to try out. In the past year or so, I've received base layers, gloves, boots, hats, fleeces, and more — all the stuff you need to have fun in the snow.
Trust me, this is a nice team to belong to.
Two of the things I've liked best have been a couple of the jackets I've received: the Columbia Lay-D Down and the Diamond TurboDown. I wear these a lot, so I thought it was about time I gave them a review:
The Columbia Lay-D Down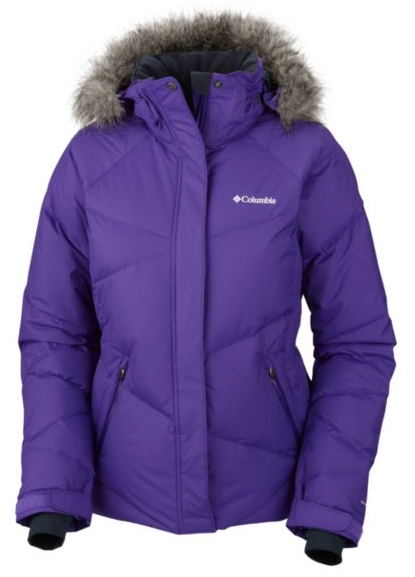 Winter can be tough here in Vermont. We've had some extremely cold temperatures this year — well below zero with wind chills as low as -30°F.  Clearly, if you want to ski, you have to be prepared for the worst. Which means wearing a really, really warm jacket.
That doesn't mean I want one that makes me look like the Michelin man. I mean, who would? Which is why I love the Lay-D Down. Wind proof and down filled, the Lay-D Down is toasty warm but stylish, too. See the picture above? Looks nice. That's the actual color of my jacket, too.
So here are some of the features I really like:
• It's very, very warm. The Lay-D Down has 550 g of down insulation (80% duck down, 20% feathers), plus the Omni-Heat™ lining. This is a layer of silver dots on the lining that Columbia says reflects your body heat. I can't say if this is true or not, but the jacket is plenty warm. So that could be part of it.
• There are five pockets — two slash pockets on the outside, and three on the inside. This gives me a lot of room to stash stuff, which trust me, I need.
• Pit zips. Too crass? Okay, underarm venting. Whatever you want to call them, they're great. If I get too warm, I can open up to cool off. A real plus, in my book.
• A nice, high fleece-lined collar. I usually ski with a neck warmer, except when I don't. And when I don't, I can zip this up   for some extra warmth around my chinny-chin-chin.
• Powder skirt. Snapping this closed helps keep the warmth in —  another good thing on a cold day.
• Cuffs with thumb holes. Same as above. Keeps the cold air from traveling up your sleeves, for extra warmth.
• Removable hood. When I get a jacket, this is the first thing to go. I don't like hoods for skiing, but I like having the option to use it when I wear the jacket off the hill.
Any downsides? Yes. I wish it had a chest pocket on the outside. But really, that's about it. I have four ski jackets, and this one is  the one I reach for on colder days.
Columbia Diamond TurboDown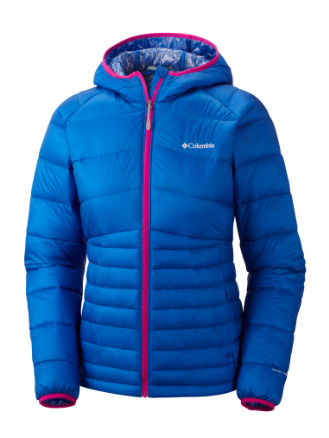 Columbia introduced its line of TurboDown jackets last fall, and they've been getting a lot of buzz ever since. The name refers to the insulating layer, which is sort of like down on steroids. It's a combination of goose feathers and Columbia's synthetic Omni-Heat insulation fill.  According to Columbia, the polyester-based insulation wicks sweat better than down, moving moisture away from the body when you're involved in aerobic activity. And the layer of down on top of this traps body heat for extra warmth.
There are a few different TurboDowns available, depending on the amount of insulation involved. Columbia sent me the Diamond TurboDown shown above. Here's what I like about it:
• It's extremely lightweight. Seriously, it's hard to believe that something this light would be in any way warm. When you pick it up, you hardly even feel like you're holding anything. You find yourself thinking how can this thing possibly work.
• It's very warm.  Here's why it does work. The jacket has a combination of 40 g Omni-Heat synthetic insulation and 850-fill goose down, plus the same Omni-Heat silver lining as the Lay-D Down. So even though it's very light, you're not sacrificing any warmth. It's kind of hard to reconcile the two thoughts in your mind, but trust me, it's warm.
• Love the color combo. The pink zipper really pops against a beautiful blue. I get a lot of compliments when I wear it.
• You can scrunch it up and fit it into its own pocket, so it doesn't take up much room in your backpack or duffle or whatever, if you're traveling. I love this.
• The down is treated to stay puffier even if gets wet, so you stay warmer in a wide range of conditions. Nice!
Any downsides? Just one: The hood isn't removable and the jacket doesn't come without one. As I said in my Lay-D down review, I'm not a hood person. But this is pretty small potatoes.
And that's pretty much it. No, I haven't worn it skiing. I use my Lay-D Down for that. But for being outside in the cold, this is a good option. You might want to check it out.
So what'd you think, Ski Diva?
Bottom line: I'd recommend either one. Both are high quality, very warm jackets, and they look great, too. Two ski poles up!
Join The Ski Diva
Since 2006, we've been dedicated to providing a place where women can talk about skiing in a way that's comfortable and respectful.
Whether you're just getting started or ski 100 days per season, our community of thousands of women skiers can help you find the information you need.
Join the Community