Have you ever had a good hike ruined by a bad pair of shoes?  Yeah, me, too. A few years ago, I went hiking in Acadia National Park and had an awful time. And yes, it wasn't the hike; it was my shoes. Because instead of gripping firmly on the rocks and roots along the way, they slid. They slipped. They nearly took me down. So I spent a good deal of time being ultra-cautious, afraid I was going to fall and break an arm or a leg or crack open my skull. It made for some pretty scary moments, and I vowed I wouldn't do it again.
It turns out I won't have to.
Arc'teryx recently sent me a pair of the Konseal FL 2 approach shoes to review, and I have to say I was very impressed.
In case you don't know, an approach shoe is somewhat different than a hiking shoe. That's because they're made for the approach, or the hike and scramble up to the start of a rock-climbing area. Like a hiking shoe, they're supposed to be relatively comfortable when worn with socks. In general, though, they're lighter and less stiff than hiking shoes, though this varies from model to model. The main difference is the shoe's sole. Approach shoes have the same kind of sticky rubber soles as climbing shoes, which allows you  to get more traction for superior grip.
Out of the box:
The first thing I noticed about the Konseal FL 2 is its good looks: Sleek and stylish — not clunky looking, like a lot of hiking shoes. I even liked the color: a nice, subtle gray-green. In fact, it looks so nice that I'd have no problem wearing it as casual footwear in a social situation. But the Konseal is more than jut a pretty face. It has a lot of great technical features, as listed on the Arc'teryx  website:
Footwear Construction
0.8mm microfiber heel lining
Injected EVA midsole delivers longwearing cushion and comfort
60% PA 40% PE mesh
TPU film and midsole chassis elevate underfoot stability
3D molded rubber toe cap
Injected TPU 70 Shore D, Forefoot 1.8mm Non-Woven stiffener
Footwear Liner Construction
3D molded, Ion Element 100% recycled EVA (closed cell) by Dynamic Foam (4.5mm)
Footwear Outsole Construction
Vibram® MegaGrip™ rubber compound is durable and grippy
Bottom line: The Konseal FL 2 is designed to be light, breathable, grippy, stable, and nimble.
So let's see if it is.
On the trail.
When it comes to feet, I think I'm pretty lucky. Even though I take a fairly small size (size 6), I don't have any of the difficulties that plague a lot of people: no bunions or fallen arches, no extra narrow or extra wide feet. So when I tried the Konseals on, I was pleased right away with the fit. The toe box was nice and roomy without feeling sloppy, and I didn't feel anything rubbing that I thought would cause problems once I got them outdoors. What's more, I found them easy to fine tune, with a lacing system that can be snugged up all the way from the toes to the ankle.
I couldn't wait to get them outside.
Here in Vermont, that was easy. Good hiking trails are never far away. I chose  a short, scenic trail about five minutes from my door. It begins at a beautiful old cemetery, and though it's not really relevent, I can't help but post a photo of it here: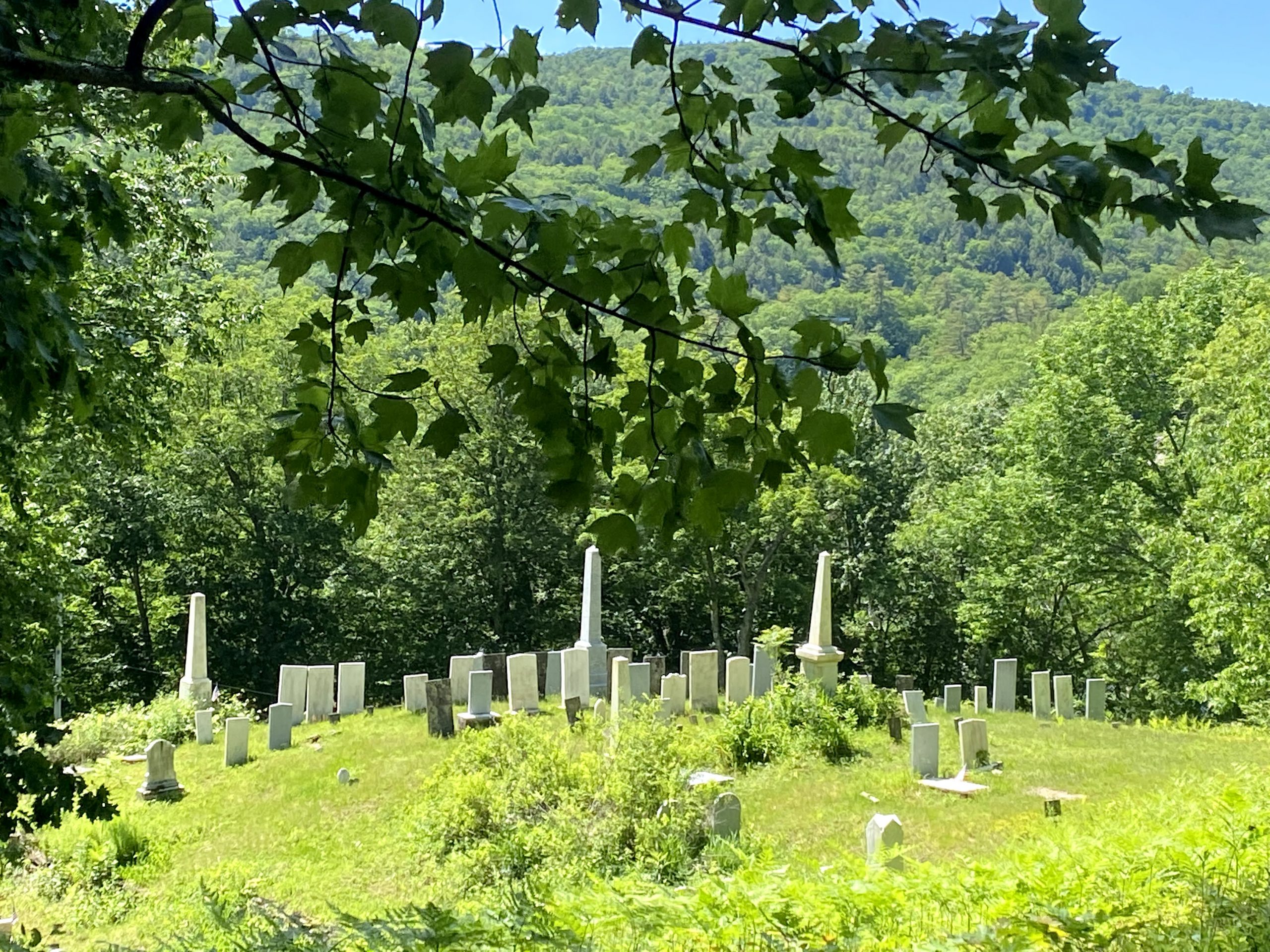 And it ends at a beautiful overlook, which I'll post a picture of a bit later on.
The hike isn't the most technical one out there, though it does have its share of rock:
So how'd the shoes do? In a nutshell, great! The Konseal's are lightweight, comfortable, and felt stable under my feet. Even better, they're incredibly grippy. No slips or slides at all. Really, I felt like Spiderman.
Were there any cons? If you're looking for a hiking shoe with lots of ankle support, these aren't for you. They're pretty low profile, so you won't get the lateral support you might want for long-haul hiking.
Would I recommend them? Absolutely. Yes, they're a bit pricey ($145 on the company's website), but they're  also very well made and designed —which is what you'd expect from an Arc'teryx product.
Oh, here's the overlook photo I promised. That's Okemo Mountain Resort in the upper right. You can just make out a few of the ski trails. And yes, I'm dreaming of winter.
Join The Ski Diva
Since 2006, we've been dedicated to providing a place where women can talk about skiing in a way that's comfortable and respectful.
Whether you're just getting started or ski 100 days per season, our community of thousands of women skiers can help you find the information you need.
Join the Community