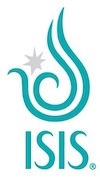 Did you ever find an outdoor clothing brand you really liked, only to have it disappear from the retail landscape?
That was Isis Clothing for Women, a pioneering brand that fell by the wayside back in 2010. Isis first came on the scene in 1998, and it was like a breath of fresh air: a clothing company that took women seriously as athletes, yet designed apparel that was both fun and fashionable. I loved their stuff. In fact, I still have a few of their pieces: a parka, a casual jacket, a rain jacket, a skirt, and some base layers. The quality was outstanding, and the style unique.
So imagine how delighted I was to discover that one of the company's founders, Poppy Gall, has started Popia Design, a new company that produces women's knit hats. They're just as you'd expect: bold, colorful, and made to the highest quality standards.  I even featured Popia in my 2019 Holiday Gift Guide.
So what happened to Isis, and what's the story with Popia? I recently spoke to Poppy to find out:
SD: Let's go back to the beginning. How did you get involved in design? Was it something you studied in school?
PG: No, I went to the University of Vermont and majored in art but dropped out – I actually went back and finished when I was 42! At the time, though, I was more interested in skiing than school, and I ended up knitting all the way through the huge 101 lectures to stay awake. My babysitter taught me to knit when I was 8, so it was something I'd always done. I also come from a family of artists; I'm told that early on I had a natural feel for design and color.
Anyway, I decided to take a break from school and started a knit hat company called Mountain Ladies & Ewe. I designed the kind of hats I wanted to wear, not what was on the market. We introduced the first knit earflap hats, and things went crazy. Killington would call on a Monday and place a huge order for Friday, and we'd say, "Sure, we can do that," even if we weren't sure we could. It was a ten year enterprise — I had 35 to 40 knitters producing hats — until we finally sold out to Turtle Fur.
SD: So how did you end up starting Isis?
PG: This was back in 1998.  At the time I was running telemark clinics in Stowe, and my future business partner, Carolyn Cooke, and I decided to get into outdoor women's clothing. I'd been a skier my whole life and had always been frustrated with the gear that was available. Back then, outdoor brands weren't designing for women. They'd take a design for men and then cut down the size. Not a lot of thought was going into women's products, and you could tell. The fabrics and colors weren't great. There were no pockets that could hold a tampon or your wallet, there were pockets on top of breasts. And the sizing was awful. We realized women came in different sizes, so we had different sizing silhouettes. That hadn't been done before. With our clothing, you could be in an outdoor group shot and look good. We tapped into women's psyche as well as their physique.
So we became the first outdoor clothing company targeted directly to women. At first we called the company Juno, but that was too similar to the name of a company in the Midwest, so we changed our name to Isis [ed. note: Isis is the ancient Egyptian goddess of love, healing, fertility, magic, and the moon]. At the first trade show we went to, all the designers from the big brands came sniffing around to see what we were doing. It didn't take long for them to figure it out. Our first year, Title Nine came on board, and things went up from there. You don't realize you're making history when you're right in the middle of it, but we were. We were changing the way the outdoor industry approached women's gear.
SD: Ultimately, though, the company went away. What happened?
PG: We were at the point where we needed more outside equity. In 2010, the stock market fell apart. The investors and board decided it was time to sell. Isis was bought by a venture capital group who moved it to Boulder, CO. They couldn't weather the storm, either, so the company went away.
SD: So how did that bring you where you are today?  
PG: After Isis, I spent my time freelancing, designing things for such companies as Darn Tough, Ibex, and Obermeyer. But as much as I loved freelancing, I loved doing my own thing. So I found myself going full circle: coming back to knitting hats. Popia is only about a year old, so it's fairly recent.
SD:There are a lot of hat companies out there. What makes Popia special?
PG: A lot of inexpensive hats look the same. They're made in Asia in these big factories, kind of as an accessory to the other things they're producing. That's fine, but it's not for everyone. I wanted to make hats that were colorful, fun, and different from the other hats that are out there.
Our hats are also made with intention and thought. They're all produced in Italy by a a family-run business that I've worked with for a very long time. It's not a factory assembly line, and the employees are paid a fair wage. And they're also made with greater attention to the environment. The yarn is spun and dyed in Italy, where they have to meet super strict European Union environmental regulations. I've visited the spinning mill over there, and they're doing a lot of reduce their carbon footprint.
I also think it's important to produce things that are going to last and last. This is urgent with climate change. We all need to minimize our waste, so it's important to create things that will stay out of the landfill. Our hats are made to the highest quality standards. If you take care of them, they'll last forever.
Join The Ski Diva
Since 2006, The Ski Diva has been dedicated to providing a place where women can talk about all things skiing in a way that's comfortable, respectful, and inclusive.
Whether you're just getting started or ski 100 days per season, our community of thousands of enthusiastic women skiers can help you find the information you need.
Join the Community