When I got out of college a zillion years ago, one of the things I considered doing was PR at a ski resort.
This never happened. Instead, I took a job in communications at a large, eastern corporation and spent my time in a windowless cubicle writing press releases on such exciting topics as wastewater treatment, cryogenic freezing, industrial gases, and all sorts of chemicals you really don't want to know about (trust me on this).
I quit after four years. But I still didn't do the PR/ski resort thing. By then I was too entrenched in life in suburban Philadelphia, and it took a long time for me to get out of the advertising rat race and move up to Vermont.
But enough about me. What I really want to talk to you about today is what it's like to be a PR Director at a major eastern ski resort. Which is why I interviewed Bonnie MacPherson, PR Director for Okemo Mountain Resort in Ludlow, Vermont.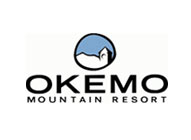 For those of you who don't know, some fast facts about Okemo:
655 acres of terrain
96% of trails covered by snowmaking
120 trails and glades
Vertical Drop: 2,200 feet
Base Elevation: 1,144 feet
Summit Elevation: 3,344 feet
Lifts: 19, including 9 quad chairs (5 highspeed quads), 3 triple chairs and 7 surface lifts
And now, heeeeeeere's Bonnie:
SD: How'd you get into Public Relations? And how'd you end up at Okemo?
BM: I actually got into PR on a lark. I did a lot of different things – worked for a newspaper, managed a restaurant — but I never had a solid career.  This was something I promised I'd change when I was 40. So around that time I saw an ad in the newspaper for a PR coordinator at Bretton Woods [NH]. It seemed to require a lot of my skill sets, so I polished up my resume and decided to go for it. Well, I ended up getting the job, and it was terrific. The owners were local with a lot of money to spend. Plus we also represented the Cog Railway and the Mount Washington Hotel, too, so it was like we were this little agency within the resort representing an attraction, a hotel, and a ski resort. It was a great learning experience, and I loved it. When my boss and mentor left for Booth Creek Resorts, I followed him there. Booth Creek ran Loon, Waterville Valley, and Cranmore. I was there for a few years when I got a phone call from the PR Director at Okemo. She was leaving and said she was recommending me as her replacement. I'd always been interested in Okemo, so I was very excited. I had a couple of interviews, they offered me the position, and now I've been here nearly 8 years. The Muellers [the couple who manages Okemo] are amazing people. They've always had this reputation as very hands on. And they are, though their responsibilities have grown to include Crested Butte [Colorado] and Mount Sunapee [New Hampshire]. We don't see them as much as we used to, but they're still around quite a bit. It suits my style much better than a big corporate culture.
SD: So what are your responsibilities?
BM: I'm primarily a liason between Okemo and the media, so I have to be available 24/7. Much of my job involves writing press releases, and I'm the editor for Okemo Magazine, which comes out twice a year.  But I also work with the rest of the marketing team, doing whatever's needed for that. In the winter I have two coordinators: a snow reporter and a videographer, who both report to me. So  I have to  manage staff , as well. If the snow reporter oversleeps or doesn't make it in, you miss your competitive edge for that day. So it's important to stay on top of that.
SD: Do you ski a lot?
BM: I try. It's funny, once you get into the ski industry, you don't ski as much as you'd like to.  I get out a few times a week. This year I raced in our local race series, too.
SD: What do you like most about the job, and what do you like least?
BM: I like that it's all about relationships. The lines blur between professional and personal, and I really like that. Some of my best friends are writers. I like how you get to know a lot of people. The ski industry is somewhat incestuous. It's small, and people tend to move around. It's hard, though, too, because you get to know people and then they leave.
The hardest part of my job is just how all-consuming it is. It doesn't matter what the time of year, I'm on 24/7. People think I have summers off because I work in the ski industry.  No. It's year 'round. And crisis management can be tough, too. We've had ski collisions, even deaths, and these are difficult.  One of the most memorable crises I had to deal with was when I worked at the Mount Washington Hotel. I was scheduled to be on an RSN [Resort Sports Network] TV show. I was home, and right before I left to go on, I called the Hotel to make sure everything was okay. The receptionist said, 'Everything's fine, except the roof blew off today.' Because it really had. We had a full house, every room was packed, but it was a really old hotel built in 1902, and the wind had just lifted the roof off the front of the hotel; people on the top floor could see the light of day out of their ceilings. So we had to deal with that. The ski area was still running, though.
SD: What are your biggest challenges?
BM: Uncontrollable things, like weather. And the sport is inherently dangerous, so accidents happen. You have to be prepared and have a plan in place in case something catastrophic happens so people know what they're supposed to do.
SD: What's your busiest season, and what do you do during the summer?
BM: Summer is actually my busiest time, since it's the lead-in for the season. For me, August 1 is the tipping point. Suddenly I have long-lead publications that are looking for information about winter – what are you doing, what are your capital investments, new programs and things – so those are all rolling out. We work pretty closely with Ski Vermont, because they're working on all their media materials at that point, updating our winter press kit, and just trying to get the information. And I'm busy putting together the winter magazine.  I try to go on vacation before then.  I've never used all my vacation time. Even when I'm on vacation, I'm still checking my email. I'd rather be on top of something than miss it. I make myself available to people whenever they need me.
Once the season starts, it's easier. Things begin to run like a well-oiled machine. Everyone knows what to do, so it sort of takes the pressure off.  You just go along for the ride and try to do your job.
SD: It seems that many PR people in the ski industry are women. What's your take on that?
BM: I don't know why that is. I think women are better communicators. We're emotional people,  and I think you need to be passionate about what you're representing. I also think it's an entry position to the ski industry for a lot of women.
SD: Here's your chance to do some PR, Bonnie.  What can we expect to see at Okemo this year?
BM: We're really excited about our new pass for college students. It's called 4.0, and it's $369. [plus tax] through December 15. It allows unlimited skiing and riding at Okemo, Killington, Pico, and Mount Sunapee [NH]. A great deal.
Then there's Operation Snowburst, our big snowmaking improvement project. We've installed new 225 HKD SV tower guns that'll allow us to maximize water flow and snowmaking from the very start of the season. During the early season, temperatures fluctuate so much that we had to put a lot of air in the system, which kept us from maximizing pumping capacity. The new system changes that, so it brings our snowmaking up to an entirely new level. With the new technology, we're hoping to to eliminate early season shuttling and even open several top-to-bottom routes.
We're also cutting a new intermediate glade. This will be about 2,200 feet long. It's mostly evergreens in there, so it's going to have a very different feel from the rest of our glades.
And it's the tenth year that our Jackson Gore Inn has been open, so we've been doing a lot of upgrades there, too.  We've replaced all the upholstered furniture, as well as the linens and the carpets. It's getting a whole fresh look.
Thanks, Bonnie! Anyone who wants to know more about Okemo, go here.
Join The Ski Diva
Since 2006, The Ski Diva has been dedicated to providing a place where women can talk about all things skiing in a way that's comfortable, respectful, and inclusive.
Whether you're just getting started or ski 100 days per season, our community of thousands of enthusiastic women skiers can help you find the information you need.
Join the Community