Skiers get a lot of advice: on gear, technique, resorts, travel. And though I don't mean to be sexist, there are a few tidbits that seem more relevant to women than they are to men. So I thought I'd capture some of them here before the new season starts. Gather 'round, ladies. Here we go:
• Men tend to overestimate their abilities, women underestimate theirs. Studies back this up. So when a guy tells you he's killing it, don't take him at his word. Wait til you see him on the hill. You might be surprised.
• Let 'er rip! You will be faster, more stylish, technically more competent than a lot of guys out there, and some of them won't like it. Remember, this is their problem, not yours.
• Women's skis are great, but they're not for everyone. Trust me, I love women's skis. But I'm small and they seem to work for me. However, women's skis aren't for everyone. The ski you choose has more to do with your ability, weight, and height than it has to do with your gender. So don't overlook a ski just because it's a unisex, or men's ski. It might work better for you.
• Do it for you. I know, you have obligations as a wife, mother, or girlfriend. But sometimes you have to ditch all those needy souls and take some runs for you. So get a sitter, use the daycare, tell your SO to man-up and do his fatherly duty. Then go off by yourself and have a blast. Men seem to do this all the time, and no one bats an eye. So why not you?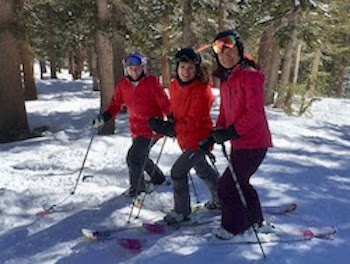 • Don't take a lesson from a spouse or significant other. There's too much emotional baggage tied up in that. I know your husband/boyfriend is a great skier, but trust me, you'll both be a lot happier if you take a lesson from an objective third party. And yes, make it a professional instructor. Along those lines…..
• Try a women's clinic. Research shows that men are more competitive, women more supportive in a learning environment. And this extends to the ski hill, too. I've done clinics at Sugarbush, Okemo, and Killington, and they're a lot of fun. It's a great way to build your skills.
• Don't sweat the helmet hair. It's not worth it, and besides, we're all in the same boat.  If it really bothers you, bring along a cute beanie and put it on when you take off your helmet.
• Don't take your skis off if you need to pee in the woods. You'll sink. Instead, build a platform on the snow with your skis, balance, hold onto something — a rock, a tree — and aim. Carefully.
• Use moisturizer. And sunscreen. The sun and the wind can do a job on your skin. So be sure to apply not just once, but frequently. Your skin will thank you for it.
• Thou shalt not choose ski gear based on color or graphics. I think we all know this, but it helps to put it out there for the rare individual who hasn't gotten the memo. Choose gear based on whether or not it works for you. Aesthetics are nice, but they won't help you ski better.
• If the guy at the ski shop treats you like crap just because you're a woman  — and believe me, you'll be able to tell — talk to the manager. Or leave. You don't have to take this condescending know-nothing crap. Better to spend your money at a place where they treat you with respect.
• Key to apres ski:  Be sure to hydrate. And wear a cute down skirt.
• Remember you're skiing to have fun. Push yourself to meet your own expectations, not anyone else's.
• Listen to your body. If you're feeling tired, take a break or even call it a day. Don't overdo. That's when accidents happen.
• Get some female ski friends. Sure, it's fun to ski with your husband/boyfriend/kids. But you can't beat the camaraderie you get from skiing with the girls. If you don't have any girlfriends who ski, check out TheSkiDiva forum.  There's a whole community of women who share your passion, and chances are one of us skis where you ski, too.
Join The Ski Diva
Since 2006, The Ski Diva has been dedicated to providing a place where women can talk about all things skiing in a way that's comfortable, respectful, and inclusive.
Whether you're just getting started or ski 100 days per season, our community of thousands of enthusiastic women skiers can help you find the information you need.
Join the Community