Times are tough for skiers right now. Like many of you, I fully expected to ski until at least the middle of April. But thanks to a tiny little virus wreaking havoc around the globe, the season has come to a screeching halt. The 2019-2020 season is DONE, and I'm spiraling into my annual bout with seasonal affective disorder.
Granted, this is a first world problem. Not being able to ski is a very small thing, given the difficulties associated with a global pandemic. People are sick. Medical resources are limited. The economy is suffering. Restaurants, bars, and stores are closed. People are out of work, and hey, there's no toilet paper.
Nonetheless, I'm tearing out my hair. It's like the off season arrived in hyper-drive. Usually you know it's out there, lurking in the distance. You can anticipate it's coming and give yourself time to get ready. This year, however, there was no time to prepare. It's here, it's now, and like it or not, we're stuck with it.
That said, quarantine, or at the minimum social distancing (our new favorite phrase) is crucial. So here's a guide to some of the things we skiers should keep in mind to make it through this difficult time:
Here's what you shouldn't do.
• Don't ski down an escalator.
Or even stairs, for that matter. I know you're desperate, but for the love of God, don't do this:
Some people I know are skinning up to earn their turns. At first glance, this seems pretty cool. I mean, what's the harm? You're outdoors, away from other people, so no problem. But understand that skiing a closed area — or even in the backcountry — does present some risks. There are no patrollers, conditions are probably less than optimal, and if you get hurt, you're going to depend on emergency personnel and medical services that could well be spent on people who are sick. What's more, if you need to be rescued, you're going to be treated as though you have COVID-19 — because maybe you do, even if you're asymptomatic, and this could put your rescuers and local medical personnel at risk.
It's not just me who feels this way. San Juan County, Colorado, recently banned all forms of backcountry recreation including skiing, and other counties are likely to follow suit. With the limited population size of San Juan County and its geographic isolation, medical, emergency and search and rescue resources say they could easily be overwhelmed.  Colorado NPR aired an interview with Colorado's Search and Rescue Teams, and here are a few quotes:
• From Ethan Greene, director of Colorado's Avalanche Information Center: "The big difference right now is that with the ski areas closed, there are not avalanche control teams out there patrolling the area so those are backcountry slopes. The same sort of avalanche conditions that you find generally in the backcountry you may find on slopes that look like ski areas most of the time."
• From Drew Hildner of The Rocky Mountain Rescue Group:  "We're anticipating a higher amount of rescues just as people start to get cabin fever and start getting outside. So we will be utilizing N95 masks. If we do a rescue on someone that has symptoms or a known exposure to COVID, it might be the case that we've lost those eight members for 14 days on rescues at a minimum." 
• From Steve Wilson, Alpine Rescue Team: "While we will still respond, we'll still rescue them — it's not with the same resources that we would use under normal circumstances. So they ought to dial back the risks that they take and places that they go with that in mind."
Far be it for me to tell you what to do, but let your conscience by your guide.
• Stay close to home. Even better, stay home. If it makes you feel better, imagine your home is a ski lodge and you and your family are the only ones around. You'd feel pretty pleased about that, wouldn't you? Hey, put on your boots and clomp around a bit. Or you can even put up drawings of mountains and ski slopes on the window, to give it more of that ski area ambience.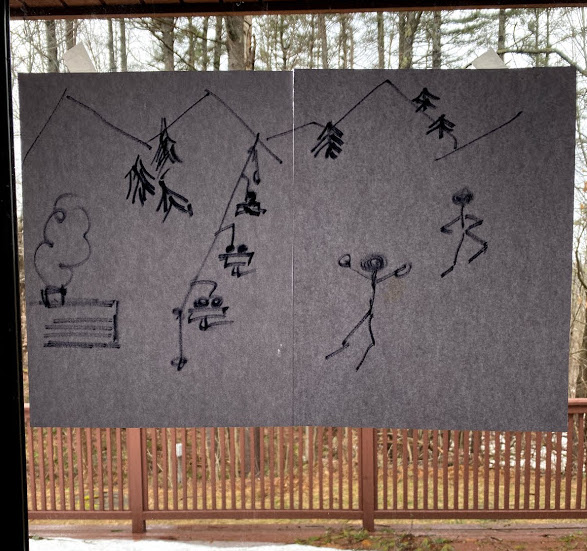 Seriously, though, the best way to get rid of this thing is to slow down or eliminate its  transmission. And if we all hole up in our homes, this will do a lot to help. I've said this before in this space: please don't visit your favorite ski town until this is over. Even if you have a second home in Stowe or Sugarbush or Vail or Tahoe, please please please stay away. I know, I know; you pay taxes and have as much of a right to be there as a full time resident. Legally, that's true. But morally and ethically, I'm not so sure. First, you could be bringing the disease into the community. And I know you don't want to do that. Second, medical resources in ski towns are probably a lot more limited than wherever you're coming from. So if you get sick, the care you get isn't going to be that great. Plus you could be taking it away from someone who, unlike you, has nowhere else to go.
So here are things you can do.
• Tune your skis. Yes, you can do it yourself (here's a blog post that might help) If you've never done it before, it's a great time to learn. There are loads of videos about tuning on line, so make a quick search and learn.
• Wash your ski clothes. Face it, the ski year is toast. So empty out your jacket pockets and your boot bag, wash your stuff (go here for some great tips), and get them ready for next season.
• Decide which season pass to buy. Now that you have some time on your hands, you can finally get around to figuring out your season pass purchase for next year. After all, the best time to buy is the spring. Should it be Epic or Ikon, and if so, which variation? Then there are others, like the New England Pass, the Indy Pass, or the Left-Handed-Skiers-Who-Eat-Tuna-Fish-On-Tuesdays Pass (just kidding. But there seem to be a lot of season passes around). Or you could go the more traditional route and get a pass for your favorite area. There's a lot to get your head around, and it could keep you busy for hours (for some Ski Diva advice, go here).
• Watch ski movies:  If you have Amazon Prime, you can use it to watch vintage Warren Miller movies (go here). Or you can go through and organize your own ski pics and videos from the past year.
• Read ski books: Two good ones — Fade to White and Double Black, Ski Diva mysteries written by yours truly. Really, they're fun. You'll enjoy them. Other good ones: SNOW, by Giles Whittell., A conversation with Fear by Mermer Blakeslee, Freedom Found: My Life Story by Warren Miller; DEEP, the Story of Skiing and the Future of Snow by Porter Fox. And if you want some great literary fiction, I highly recommend books by my husband, Jon Clinch: Marley, Finn, The Thief of Auschwitz, and Kings of the Earth.
• Build a Lego base village. No kidding. This could really be fun. The LEGO Ski Resort includes 806 pieces along with eleven mini figures: 3 ski patrol members, a ski shop clerk, helicopter pilot, skier, snowboarder, 2 kids, a hot drinks stand clerk and customer, plus dog and buildable snowman figures. There's also a rescue base, a half-pipe and grind rail, a ski shop, a hot drinks stand, a helicopter toy, a 4×4 truck and a snowmobile with an attached trailer. Fun!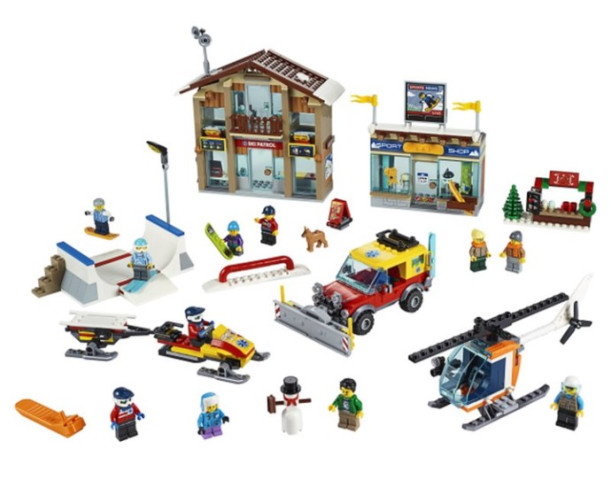 • Ski puzzles. Why not? Putting together a puzzle is a great way to pass the time. Here's a good one. I'm actually working on it right now.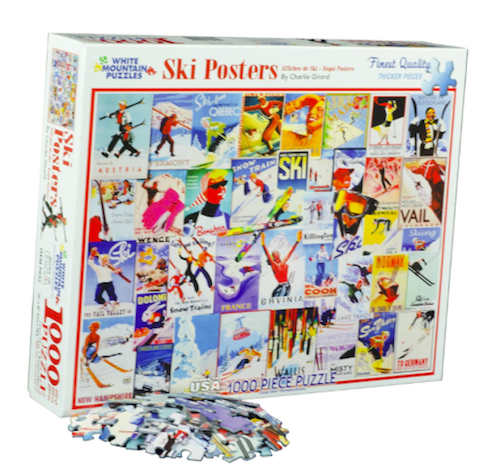 • Become a member of an online ski community. I highly recommend TheSkiDiva.com. Just because we're not skiing doesn't mean we shouldn't talk about it.  Join the premier online community for women who love to ski, and keep the stoke going all year 'round.
• Get in on great gear deals. Spring is the time to save on ski gear, and the big online retailers are having their sales. All the same, I'm really in favor of supporting our ski town outdoor shops. They're the ones who are truly going to suffer in all this, particularly since the season ended so abruptly. So if they have an online presence, please do them a favor and buy there. If you don't, they might not be around when you need them next year.
• Stay fit. This is really an issue, since I can't ski and my gym is closed. But there are things you can do, even in quarantine. Get outside. Walk. Run. Ride your bike. Or take advantage of the bazillion work-out videos on Youtube, or subscribe to one of the many work-out apps that are out there: Down Dog, Beachbody, and Peleton, are a few that are letting you try at no cost for a limited time.
I know all this feels like it'll go on forever, but it won't. As they say, this, too, shall pass. In the meantime, try not to go crazy. And stay healthy.