In a world where the ski industry is characterized by a bigger is better mentality, it's nice to know that Mountain Rider's Alliance is fighting the fight for the local ski hill.
Mountain Rider's Alliance is sort of the yin to Vail's yang. Because instead of developing mega-resorts replete with condo developments, base villages, and luxury amenities, MRA has made it its mission to champion smaller areas that are environmentally friendly and have a positive effect on the local community. For MRA, the focus is squarely on skiing.
Imagine that.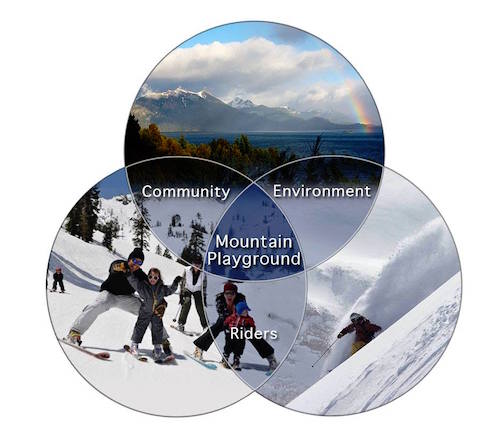 I first wrote about Mountain Rider's Alliance in 2012 (you can find it here). Not only did I sympathize with its cause, but like it, I despaired over the continued disappearance of smaller, community-centered ski hills. Since the 1980's, roughly 33% of US ski areas have gone out of business and up to 150 more are considered threatened by industry experts. Sad news, indeed.
MRA is working with a number of small ski areas to stem or even reverse this tide. For starters, it's built a management partnership with Mt. Abram in Maine (I've skied there, and it's a blast), provided consulting services for Mt. Ashland in Oregon and Antelope Butte in Wyoming, and is helping open Manitoba Mountain in Alaska. It's also partnered with PayneWest Insurance to spread the cost and risk of insurance premiums, which are typically quite high for small ski areas. And in an effort to spark new business opportunities, it's partnered with Nature's Partner to produce concerts, festivals and lifestyle events at underutilized ski areas.
MRA's latest initiative is an alliance between five independent ski areas called the Mountain Playground Group. The group will work together to reduce expenses while increasing efficiencies and profits, and, according to a press release, strive to promote "the authenticity and uniqueness of soulful ski areas." As part of this, it'll be mounting a joint marketing campaign to heighten awareness of participating ski areas, and offering the Mountain Playground Card, which provides exclusive discounts to participating ski areas, as well as additional benefits (more on those below).
I spoke to Jamie Schectman, one of MRA's co-founders, to learn more about the new alliance:
SD: First, tell us why smaller ski areas are so important. What characteristics do they share? And what do they have to offer that larger ski areas don't?
JS: Smaller areas typically offer less than 2,000 vertical and receive fewer than 100,000 skier visits per year. They share a sense of place and don't remind you of any other ski area you've skied. I think they're more funky and soulful than bigger areas; they're not cookie cutter or homogenized. Most are like the bar in Cheers, "where everyone knows your name."
Small hills also play an important part of the fabric of the surrounding area. Besides offering a less expensive price point and lower skier density, community and independent ski areas are major winter economic drivers as well as outdoor facilities where multiple generations can get together to have fun. They're very important to the overall ski area ecosystem. Before graduating to the mega resorts, many skiers and riders start small. MRA did a survey in April, 2014, that confirms this. Out of 1,400 skiers and snowboarders, we found that 70% learned how to ski at a ski hill with fewer than 6 lifts. So they're crucial in bringing new skiers to the sport.
SD: What type of challenges do the smaller areas face?
JS: There are so many: aging infrastructure, access to capital, rising expenses and climate change. And of course consolidation, which is putting more at-risk ski areas out of business.
SD: So the Mountain Playground Group is effectively a ski area consortium. Why would they want to work together? How would they benefit?
JS: Many of these independent ski areas pay much higher prices incrementally than their big brothers. Banding together will help them achieve economies of scale and purchasing power, from equipment and infrastructure to master leases and much more. Sharing best practices and knowledge is a huge advantage to franchise-type models. In many cases, we'll be providing a layer of sophistication not found in the smaller ski area level.
SD: What ski areas are involved in your new initiative? Will this list grow?
JS: Our goal was to have five to ten ski areas participate in the first season while we refine the model and prepare to scale. The early adopters include Bald Mountain, Idaho; Beartooth Basin,Wyoming; Elk Ridge, Arizona; Hurricane Ridge, Washington; our long-time partner, Mount Abram, Maine; and to make it international, Phoenix Mountain in British Columbia! And yes, we intend to add more ski areas in future years; we estimate there are well over 200 ski areas in the US alone that could benefit from being part of the consortium.
SD: I understand that part of the program includes a Mountain Playground Card. In addition to discounts at participating ski areas, what else does it offer? And when it this be available?
JS: The Mountain Playground Card is much like the Mountain Collective is for North America's signature ski resorts, though a bit more homegrown. And yes, it includes some exclusive deals on custom skis and snowboards, high-end retail goods, lodging, tours and much more. Fifteen percent of the proceeds from sales of the cards will benefit SheJumps, a non-profit devoted to increasing the presence of women in the outdoors. Each participating ski area will also be hosting a SheJumps Get the Girls Out event. It's a great deal for everyone.
SD: Besides the Mountain Playground Group, what else is MRA working on right now?
JS: We're continuing to do consulting work for both underperforming ski areas and ski areas that are currently closed. And we're working to further the Manitoba Mountain project on Alaska's Kenai Peninsula, although the process has slowed down as the Chugach Forest District rewrites its forest plan. We'd also like to acquire and operate our own ski area, where we can implement our latest strategies without having to run the concepts up a flag pole.
——————-
Want more info about Mountain Rider's Alliance? Take a look at this:
Join The Ski Diva
Since 2006, The Ski Diva has been dedicated to providing a place where women can talk about all things skiing in a way that's comfortable, respectful, and inclusive.
Whether you're just getting started or ski 100 days per season, our community of thousands of enthusiastic women skiers can help you find the information you need.
Join the Community