(Photo: Upper Jester, Sugarbush, Vermont)
One of the things I love about skiing is how no two ski areas are alike. Each has its own character, its own vibe, even its own culture. That couldn't be more true than it will be this year, when ski areas across the country implement their own unique coronavirus policies.
So it was with great interest that last week I sat in on a panel discussion between representatives of three Vermont ski areas: Bill Cairns, president of Bromley Mountain Resort; Bill Stritzler, owner and managing director of Smuggles' Notch; and John Hammond, general manager and COO  of Sugarbush Resort. The topic: how each resort plans to handle social distancing in the season to come. (A shout out to the Vermont Ski and Snowboard Museum, who hosted this virtual conversation as part of its Red Bench Speaker Series.)
Skiing is important in Vermont. The fourth largest ski state in the nation, Vermont has an average of about 4 million skier visits per year. These visits generate over $900 million in direct spending throughout the winter, two-thirds of which occur off-mountain in the surrounding villages and towns. Add on another $700 million generated through indirect and induced spending, and you can see that skiing has a powerful effect on the state's economy. That said, 80% of Vermont skier visits come from out of state, many from counties termed yellow or red. Maintaining the balance between letting skiers in, while keeping infection rates down, is going to be a challenge in the season ahead.
If you're not a Vermont skier, you may wonder why you should even bother to continue reading this. But keep going;  the issues these resorts are facing are probably the same ones your own home mountain is grappling with, wherever that may be.  In fact, the National Ski Areas Association has released a set of operational practices for ski areas during the pandemic. The way these are being implemented at the three Vermont ski areas represented here provides a glimpse into how they'll be handled at a lot of ski areas throughout the country. Oh, and for greater context: Bromley and Smugglers are independently-owned. Sugarbush was recently acquired by Alterra, which makes it part of the IKON family.
And now, some snippets from the panel discussion:
Bill Cairns, Bromley:
• At Bromley, the idea is to have as little guest/staff interaction as possible — to have our guests do things on their own at a higher level than they've done in the past. We're looking at technologies that can make this possible. We've invested in a rental module and pick-up boxes for picking up tickets, and we'll be investigating other things, too.
• We're also looking hard at what we're going to do outside. I don't have anything to report right now, but we're looking at outdoor spaces to offset the restrictions that may be in effect inside our base lodge, whatever that will be. The safety of our employees and guests is paramount.
• We're looking into managing our indoor dining. In our case, and at most ski resorts, the pinch point is lunch time, say between 11 to 1:30 or 1:45. There'll be a time management effort that has to happen then, maybe even limiting table-time to 30 or 40 minutes, so that someone else will have the opportunity to use that table.
• We're going to encourage people to boot up in their cars, but it won't be mandatory. I'm going to set aside some part of the lodge for people to boot up. It's impractical to think that all our guests  are going to boot up in the parking lot.
• There will definitely be access to the restrooms. You may not be able to hang out in the base lodge if it's at max capacity, whatever that's determined to be. We'll have people managing the situation. Keep in mind this is about what we call "red days," or the approximately 20 days a year when we're all very busy: Christmas holidays, weekends, February Vacation Week. On a given Tuesday in January? I don't think any of these management strategies are going to be crucial or critical.
• Skiers will not need reservations to ski. We're going to manage indoor spaces, but I think skiing is pretty straightforward. You're wearing a mask, you're going to ski,  you're going to ride  lifts. Everything that remains good about skiing remains good about skiing. We're not going to change that.
• As for ski school, I'm just not sure how we can bundle together children from different out-of-state counties with varying infection rates. Right now we're leaning heavily toward private and family private lessons. We're also not going to offer childcare this year. I don't know how we can do it and meet the guidelines.
• I think the event list is going to be different. The idea is still to have a fun winter. What does that look like? To some extent, it's to be determined.  A lot of this winter is going to be along the lines of arrive, ski, and leave. But there are those who like the social aspects of skiing. We just want to keep it safe for everybody.
Bill Stritzler, Smugglers' Notch:
• One of the areas we're emphasizing is having our guests ski with their friends and family, because it's going to be easy to ski with people you know. The industry standard is going to be that no one will have to ride the lift with anyone they don't want to. But other than that, we're going to accept the word of the people on line when they say they're loading with someone they know. We're already anticipating that some of our lift line waits on busy days will be longer than usual; the loading won't be at the same rate than it's been in the past.
• As for the base lodge crunch, our RFID technology tells us that the majority of our skiers and riders arrive at 10 and leave at 2, so we're going to try to educate the public to schedule their arrival times differently, if possible, so they don't run into the crunches that occur during those hours. It's really about ten days a year that you really have to be concerned about, and clearly that's weekends and holiday weekends. This isn't an everyday thing.
• We've already announced that we're not going to require reservations this year. We are going to have to have systems that'll take care of those days where there are more people; we're not going to send people home. We're very fortunate to have all double lifts, which makes them pretty easy to handle. You just have to know one person to share a lift.
• We're going to continue the ski school program to the extent that we can. The major change is that in many of our ski school programs, we're going to ask a parent to accompany the child. Not in all cases; it'll be age related. We did drop our full day camp for 3 and 4 year olds, instead modifying it to 2 hour sessions in the mornings and afternoons. But we're also asking a parent to be present so that any handling of the child will be done by them. The full day programs now start at age 5. We plan to experiment with drop and go; a parent can drop their child off if they're healthy and can take care of themselves on snow — if they fall and their ski comes off, they can get it back on themselves — but they have to be no more than 10 minutes away.
• We've had some questions from people who have medical conditions that don't allow them to wear masks, I'd like to say that all comers are welcome to use our facilities. We may ask them to ride the lift alone, but they are more than welcome to ski.
• Child care is still a topic for discussion, whether we'll offer it for six months to three years. Right now it's unresolved, but we are going to try to figure out a way to take care of younger kids so their parents can enjoy the sport.
John Hammond, Sugarbush:
• Like Bromley and Smugglers, we won't require reservations. We're going to manage the number of day tickets we sell. We're going to be putting all of our tickets on line for advance purchase, and we're pretty confident that by allowing our pass holders unrestricted access — except, of course, for the restrictions on their pass — we can manage the crowds to make it a good on-mountain experience.
• We'll be moving a lot of things outside. For example, we've purchased a food truck and we'll be doing some take-out windows. We're going to be doing a lot of on line ordering for everything to eliminate queuing.
• We'll do advance reservations for ski school and rentals. We don't want to put 200 people in the rental shop. We'll text you when your equipment is ready to be picked up and we'll walk you through in small groups. That way  you're not wasting your day waiting in line; you can be outside enjoying the resort. It's difficult for a lot of us to give up that communication that we have with the guest and do it all on line, but we're working on it. We want people to realize we're still the same people here; we just have different policies to get through the day.
• Like everyone else, the base area is our pinch point, so we're building 6 little mini cabins — they don't have a name yet, but we'll probably call them Sugarbush Base Camp — so you can rent your own little building in the base area. Your family or your group can use it as a home base to boot up in the morning and gather.
• We've canceled all our seasonal programs in ski school. We just don't feel comfortable handling grouping our customers together. We're going to be offering a hybrid program to seasonals; the details will be coming out soon. By doing everything in advance and on line, we can get people's health information and find out if they're complying with the guidelines for travel, so you won't be waiting on line for your instructor or lesson.
• There are some activities we still think can happen, What we're trying to do is avoid indoor congregated groups of people. So we're looking to see if we can change some of the events to be smaller groups and reservations for 10 people that know each other. It'll be different.
• As of right now, we're not planning to open up childcare for walk-in guests.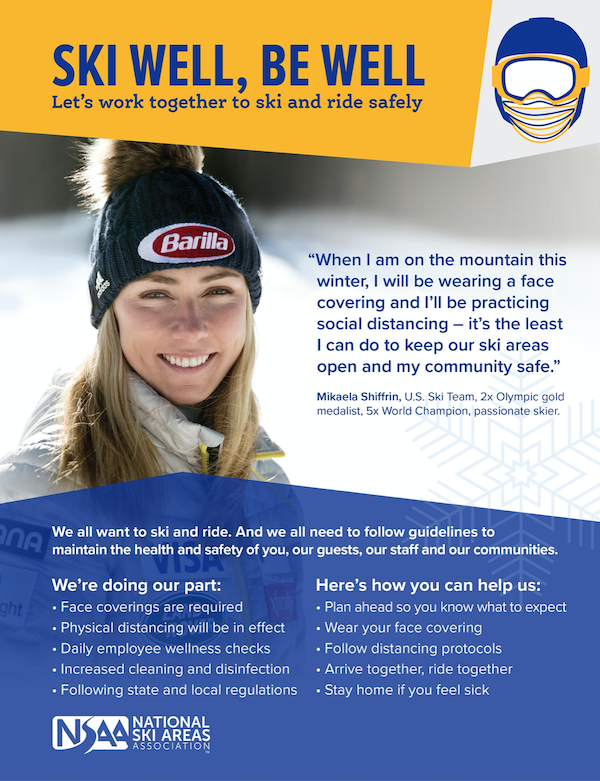 The takeaway
Clearly, the resorts are doing the best they can to ensure a safe and fun ski season, and we need to keep that in mind when we're skiing or dealing with resort employees . This is uncharted territory and everyone is doing the best they can to find their way and keep their guests and employees safe and happy.
For more information on what Bromley, Sugarbush, Smugglers' Notch, or any other ski area is planning this winter, please be sure to visit their websites. And be sure to check the website of wherever you plan to ski, so you'll know what to expect.
Join The Ski Diva
Since 2006, The Ski Diva has been dedicated to providing a place where women can talk about all things skiing in a way that's comfortable, respectful, and inclusive.
Whether you're just getting started or ski 100 days per season, our community of thousands of enthusiastic women skiers can help you find the information you need.
Join the Community