I know, I know, Christmas decorations have been in the stores even before the Halloween stuff was put away, But with Thanksgiving this week, I think it's safe to say we're actually in the throes of the holiday season. So once again, I give you my Ski Diva Holiday Gift Guide. Some of these you might want to put on your own list, some you might want to get for someone else. Whatever you decide, these items impressed me as good gifts for this year.
Gogglesoc
This is a fairly new company that's offering something that makes a lot of sense: a cover you can put over your goggle lens to keep them from being scratched, even if you leave your goggles on your helmet! Gogglesocs are available in a wide range of colors and designs. They're easy to put on and off, extremely affordable, and a great gift for skiers of all abilities, men or women. Use the Ski Diva discount code, THESOCDIVA, to get 30% off.
Electric S'more Maker
There's not much more that says apres ski more than S'mores, and this electric s'more maker from Sharper Image  lets you make campfire quality S'mores right at home. Designed for safe indoor use, the 6 piece set includes a stainless steel range, a serving tray with compartments for chocolate, graham crackers, marshmallows, and 4 roasting forks.
Kantaja Double Roller Ski Bag
I recently gave this double roller ski bag from Kulkea a rave review, and deservedly so. The Kantaja is incredibly roomy, extremely well made, and includes a roster of great features that set it head and shoulders above other ski bags.
Ski Art Prints
Sometimes you just stumble upon something you think is really cool. And during my recent trip to the Boston Ski & Snowboard Expo, I came across these original ski art prints by Rusty and Ingrid from Rockport, Massachusetts. Available in a variety of sizes with or without New England ski resort attribution.
Stio Sweetwater Fleece Hoodie
Love this modern take on the classic hoodie! Stio's Sweetwater Sweater knit fleece offers cozy comfort and technical performance, while a brushed outer provides the look of wool. Plus they come in a variety of colors.
Sno Skins Mid-layer
The Postcard Print from Sno Skins is too cute to wear under anything else. A technical piece made of poly microfiber with a spandex brushed back, this technical 1/4-zip is available from select retailers.
Vermont Brownies
I have rarely had brownies as good as the ones you can get from Vermont Brownie. So if your intent is to get sweets for the sweet, I highly recommend choosing one of their stellar gift packs. And yes, they ship (for free!) all over.
Backcountry Tote
From Krimson Klover, here's a tote you can use to stash all sorts of stuff, on or off the hill. The back side says "The Mountains are Calling." Now that's something we can all get behind. Love it!
Cold Weather Cell Phone Survival Kit
If you've ever had your phone run out of juice on the mountain, you'll know why I love this. The Cold Weather Mobile Phone Survival Kit by Therma-Phone keeps your phone working under extreme temperature conditions. It actually acts like a flexible stainless steel thermos, retaining heat when it's cold and reflecting heat when it's hot.
Merrell Arctic Grip Boots
Winter doesn't stand a chance with Merrell's Arctic Grip Boots. M Select DRY seals out water and lets moisture escape so you can stay dry, and Vibram Arctic Grip outsole provides unparalleled traction on ice even in the most extreme winter conditions.
Double Black, a Ski Diva Mystery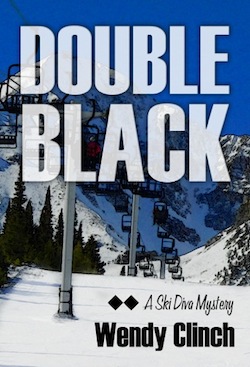 In DOUBLE BLACK, Boston's twenty-something Stacey Curtis ditches her cheating fiancé and heads for a Vermont ski town. She's looking for the life she's always dreamed about, but she stumbles instead into financial intrigue, bitter family warfare, and murder. Populated with quirky characters, loaded with New England atmosphere, and starring a young woman with nerve, spunk and a sense of humor about it all, DOUBLE BLACK is an exciting run down some treacherous mountain trails. (And yes, this is written by me).
Happy Shopping! And have a Happy Thanksgiving!
Join The Ski Diva
Since 2006, we've been dedicated to providing a place where women can talk about skiing in a way that's comfortable and respectful.
Whether you're just getting started or ski 100 days per season, our community of thousands of women skiers can help you find the information you need.
Join the Community