by Melissa Medeiros
Most avid skiers would love to ski year 'round. Unfortunately, this isn't what Mother Nature intended, at least in the Northeast. But if you want to get your ski fix in before the snow flies, Big Snow American Dream, the first indoor ski park in North America, is definitely the place to go. Last weekend a few friends and I decided to check it out, and here's what we found.
Big Snow Stats
Located in New Jersey just a short drive from New York City, Big Snow covers four-acres and contains 5,500 tons of real snow packed to a depth of two feet. The main ski area is around 1,000 feet long and 200 feet wide, with an altitude of 160 feet (16 stories) and a maximum pitch of 26% — not exactly mind blowing in comparison to the mountains most of us are used to, but quite the feat for an indoor facility. It also produces its own snow and grooms it daily, just like any other ski resort.
First, some policies and procedures.
Like all public locations, there are policies in place at Big Snow right now to help keep guests and staff  as safe as possible from the risk of Covid-19 exposure.
There are limits on skier capacity, so you'll want to make your reservation online ahead of time. This is actually a good thing; I thought the volume of skiers encountered was perfect and I'm not sure I'd be as excited about the experience at full capacity.
If you buy a multi-day pass, reservations are not required.
Day tickets are sold in 2 hour increments, with or without rentals of everything from ski gear to full ski clothing, depending on what you need. Gloves are the only thing not available for rent; you can bring your own or buy them from Big Snow. Gloves are required to be on the snow, though, so be sure you have some.
There are ski, snowboard, and Sno-Go bike lessons available for an additional fee. Lesson options may vary with the Covid situation at any time, so inquire beforehand if you're interested.
Arrive no more than 5 minutes ahead of your reservation, and no more that 15 minutes after.
Be sure to have a face covering on once you head inside the mall. This is required to enter Big Snow and for the entire time you're skiing. I'd recommend bringing at least one extra mask or face covering of choice; I found mine was soaked by the end of my ski time and I was really happy to have a dry mask to put on.
There are reminder stickers on floors, benches, and walls throughout the facility regarding maintaining 6 feet of distance from those not in your group.
Getting to the snow.
After parking on the ground level of garage A of the American Dream mall, I left the sunny 80 degree weather outside and made my way up two escalator levels with my boot bag on my back and skis and poles in hand. As soon as I got off the escalator, an employee scanned my ticket (a word of advice: have it readily available) and took my temperature. Then I got into a second line to have my ticket re-scanned. I was then given an RFID bracelet that acted as both my lift pass and locker key (be mindful of how tightly you secure your bracelet, as it has a one way locking mechanism; you'd have to actually cut it off if you made it too tight.)  Lockers are included with your reservation, so my first stop was the locker room. The lockers are generously sized; I was able to fit my large half-full boot bag inside with minimal squishing. All the lockers  are disinfected after each guest, and the ones that are clean and available have hang tags so they're easy to spot. You remove the tag when you use the locker. I recommend wearing your base layers to the facility so you can throw on the rest of your outerwear and gear in the locker room. It's all co-ed, so if you need to strip down you'll have to use a restroom, and personally, that's not my favorite place to change.
Time to ski!
Once we were dressed and geared up, it was time to hit the slopes! You scan your bracelet at the doorway between the locker room and snow area; this starts your clock for skiing, so you don't need to worry that you're using up time getting ready. It's 28 degrees once you step onto the snow, and it felt a bit more humid than I'd anticipated.  I was comfortable with shell outerwear, minimal wool base layers beneath, and thin mittens. I did admittedly turn my boot heaters on low after a few runs, but my feet are always cold. I never pulled my goggles down from my helmet; they weren't necessary inside and fogging was an issue with the humidity and mask usage.
The interior layout has a beginner trail called "Lil' Dipper" with terrain-based learning set up. You can access this area by magic carpet. Next you'll see a quad lift in the middle of the full sized slope and a poma lift at the far end.  Both of these take you to the same general area at the top, and you can then choose to ski down the regular ski slope or a terrain park.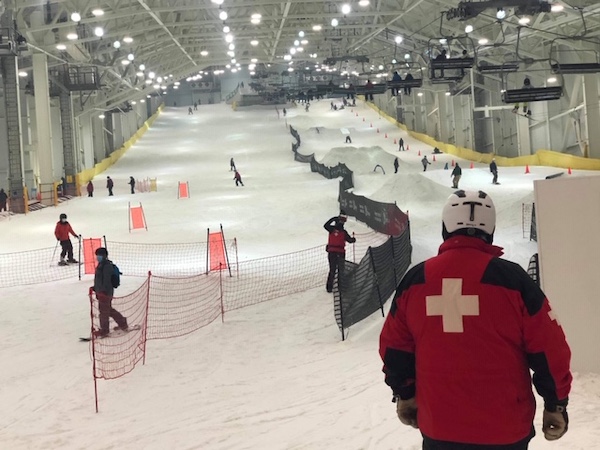 My group did a few runs on the blue slope, "Switchback," to warm up and get our legs turning for the first time in six months. The snow is a bit hard to explain; it felt like regular snow under my skis, but it was softer and drier than the manmade snow in New England. When I pushed it around at the base, it kind of parted around my skis and reminded me of sugar or a dry slush. The conditions kept up very consistently the whole time I was there, which was until around 2:30.
The poma lift was running when we first arrived, but then it was shut down for the rest of our stay and there were cones set up the entire length of the trail between it and the terrain park.  For a little extra challenge and to make things more interesting, my group kept lapping this area, essentially treating the cones as a slalom course. Not only was it a blast, but no one else was really heading that way so we had it all to ourselves.
We didn't have to scan our bracelets every time we got to the lift, but sometimes an employee would make sure one person from each group was scanned. This turned out to be more than effective for weeding out people whose time periods had expired. It also let us know how much time our passes had left. I found the employees easy going; they probably allowed us an additional run or two after our time was done, which we greatly appreciated.  At that point I think everyone was satisfied. Two hours is plenty of time to enjoy the space without getting bored.
The verdict?
We treated this as a normal ski day, took pictures on and off the lift, and enjoyed each other's company and the novel indoor experience. The snow didn't disappoint, and even though the runs are short, we got a lot of skiing in during a relatively short time with minimal lines. All in all, everyone had a great time and I, personally, give Big Snow two ski poles way up! If you're thinking of giving it a try and are on the fence, I encourage you to go. Visit with friends, make a day of it, have a picnic nearby. I'll definitely be back and look forward to checking off skiing in the summer months of June, July, and August.
Join The Ski Diva
Since 2006, we've been dedicated to providing a place where women can talk about skiing in a way that's comfortable and respectful.
Whether you're just getting started or ski 100 days per season, our community of thousands of women skiers can help you find the information you need.
Join the Community