There are zombies in Vermont right now. Correction: we're all zombies in Vermont right now, walking around dazed, barely able to comprehend the extent of the destruction.
Anyone who thinks (are you listening, George Will?) that the media exaggerated the effects of Irene only needs to set foot in the state (oh wait, you can't get here from there). Okay, we're not New York City-center-of-the universe (no offense, New York). But as they say,what are we, chopped liver?
You may have heard reports that many people in the state are essentially cut off from the outside world. Well, you can practically add me to the list. Why do I say practically? Here's the deal: there are essentially two ways to the main road from my house. One of them is completely washed away, and the other will probably be gone very shortly, since a stream is literally eating away at the road bed. We spotted a car on the other side of that before it goes, so hopefully we'll be able to get out when we need to (although we'll still have to ford the stream). With so much needing to be done throughout the state, it's anyone's guess how long this repair will take, so we may be hoofing it back and forth to the car for a good while.
Here's what I'm talking about. Yesterday morning this was nearly two lanes wide. By the afternoon it was barely one.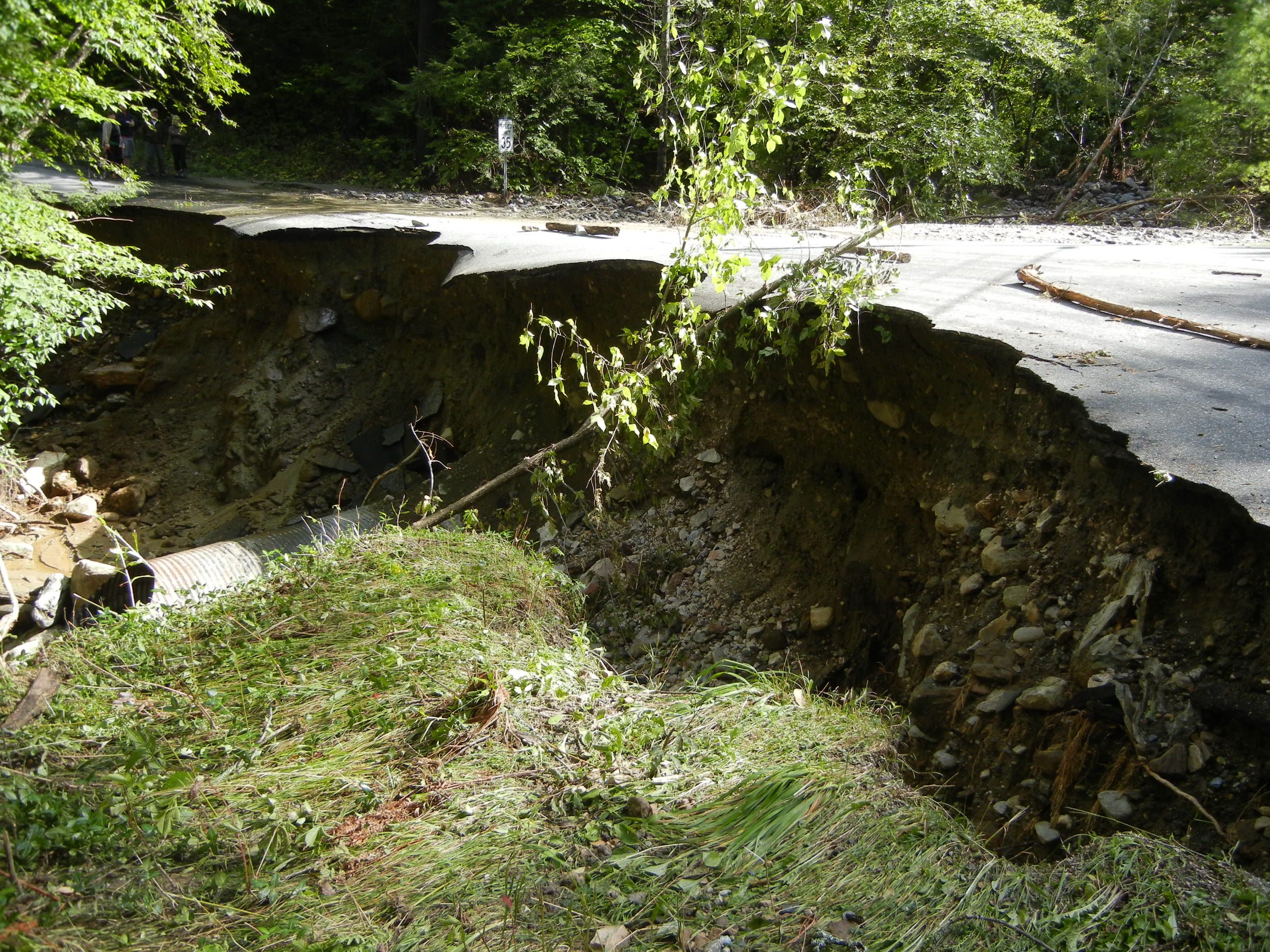 We also walked up the road that leads over the mountain by our house, and it's G-O-N-E. I understand it's this bad at both ends, so the people in the middle are entirely cut off.
This is only a taste of the destruction around here. It's truly heartbreaking. And it's this way everywhere, all over the state.
How will we rebuild? Before winter sets in? This is a small state with limited resources. My township, for example, has exactly three dump trucks. Yes, three. That's it.
Perhaps Jim Cantore, of The Weather Station (and my new crush) said it best:
For anyone who wants to help, you can do one of three things:
VTResponse.com is working to connect volunteers ready to help with those that need assistance. If you want to help clean up and rebuild, let the folks behind this site know.
Donate to Vermont Red Cross. You can do that here.
Text FOODNOW to 52000 to donate $10 to the Vermont Foodbank. The Foodbank will turn each donation into $60 for families in need.
BTW, on a ski related note, the K1 and Snowshed lodges at Killington have collapsed:
Pardon me. I think I'll have a good cry.
Join The Ski Diva
Since 2006, we've been dedicated to providing a place where women can talk about skiing in a way that's comfortable and respectful.
Whether you're just getting started or ski 100 days per season, our community of thousands of women skiers can help you find the information you need.
Join the Community