Most people's experience of night skiing is pretty standard: it gets dark, the ski area illuminates a few trails with high powered overhead lights, you ride the lift up, and then you ski down with several hundred of your closest friends.
At Sugarbush Resort in Waitsfield, VT, night skiing is nothing like that.
I know, because I just did it a few weeks ago. First, there are no overhead lights. Second, it involves a snow cat. Third, there's an amazing dinner. And fourth, it's just you and a few other people. That's it.
The whole experience is both serene and exhilarating, as well as way more fun than I ever expected. If you have the chance, it's definitely not to be missed.
I'll admit, when I was first contacted about trying it out, I was a little anxious. Full disclosure, I'm a bit of a wuss, and the idea of night skiing without benefit of artificial illumination had me a bit concerned. I imagined making my way through total blackness. How would I know where I was? What if I ran into something? What if I made a wrong turn? Don't worry, I was assured. Lots of people have this concern, and it works out fine.
I'll say it does.
Why Sugarbush is special.
I've said this before, and I'll say it again: Sugarbush is one of my favorite Vermont ski areas. Located in the Mad River Valley, a beautiful region in an especially beautiful state, Sugarbush consists of two main peaks: Lincoln Peak (3,975 elevation, 2,400 vertical) and Mount Ellen (4,083 elevation, 2,600 vertical). Between the two is Slide Brook basin, a wilderness ski area made up of 1,000 acres.
Sugarbush strikes a great balance between being a skier's mountain and a family destination. There's lots of expert terrain — more than 40% of the mountain is rated black diamond — but there's plenty to keep intermediates and beginners happy. Instead of the broad groomers that make some mountains pretty interchangeable, Sugarbush has terrain with character. There are lots of the traditional, winding New England trails that offer a surprise around every bend. There's plenty of tree skiing and bumps. And there are spectacular views; look one way, and the Green Mountains stretch out before you; look the other, and there's Lake Champlain. What's more, Sugarbush has what can only be defined as a Vermont vibe. It's as if the place was marinated in maple syrup. And yes, it makes a difference in the atmosphere.
There are lots of inns and motels to stay in around Sugarbush, but the best, in my opinion, is the Clay Brook Hotel.  Located right at the ski area's base and notable for its barn-inspired architecture, the hotel has a variety of accommodations ranging from studios to five bedroom suites. It's lovely: luxurious without being fussy, comfortable without being dowdy. And it's connected to a fantastic restaurant — Rumbles — so you don't even have to leave the premises for a terrific meal.
Best of all, it's super convenient to the slopes. This was the view from my room: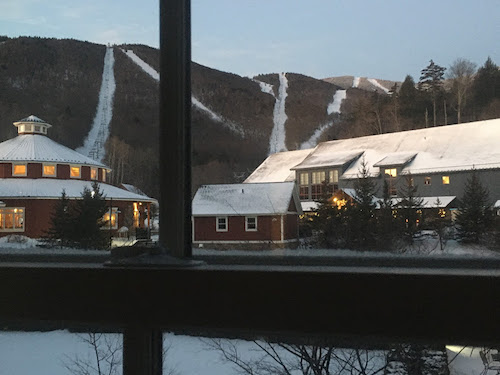 There's so much to love about Sugarbush that you never, ever want it to change. Except there's a great big change in the works, and it's happening now.
Enter Alterra.
Just a month or so ago, Sugarbush announced its acquisition by Alterra, which already owns own 14 resorts in North America and partners with 27 more around the world on its Ikon Pass. Win Smith, one of Sugarbush's part owners, will remain as president for the foreseeable future. Which is a good move. Win is extremely hands on — he skis at Sugarbush every day — so he has a close up and personal feel for what's going on at the mountain. In a letter to the Sugarbush community, Win lauded Alterra's philosophy of building a family of iconic destinations, each with its own unique brand, culture, and identity. "Over the years of our ownership, we have turned down several offers to sell Sugarbush and have prided ourselves on being independently owned and operated. However, recent events in the ski industry and the challenge of rising costs posed both by climate change and by doing business in Vermont have convinced me that a new owner is needed to ensure a sustainable future for Sugarbush. Until now I had not laid out a succession plan and identified who would be the best future custodian of Sugarbush. Most importantly, I needed to find someone who would care for Sugarbush as we have and our entire Sugarbush community would expect. I have found such an owner in Alterra Mountain Company."
What does this mean for skiers? It's too early to tell, but let's hope that Alterra manages the mountain in a way that retains the things we love about the place.
Skiing into the night.
So on to the night skiing.
The adventure began at the base, where we divided ourselves into two groups: those who wanted to skin or snowshoe up, and those who wanted to ride up in the cushy heated cat.  The first group left before the second, but both arrived at pretty much the same time. Our destination: Allyn's Lodge, a small, rustic warming hut at the top of Gadd Peak. Both groups had their gear carried to the top by the cat.
Here's Allyn's Lodge during the day:
Yes, I took the snow cat up. It's a 12-person limo cat, and it's pretty cool to ride in.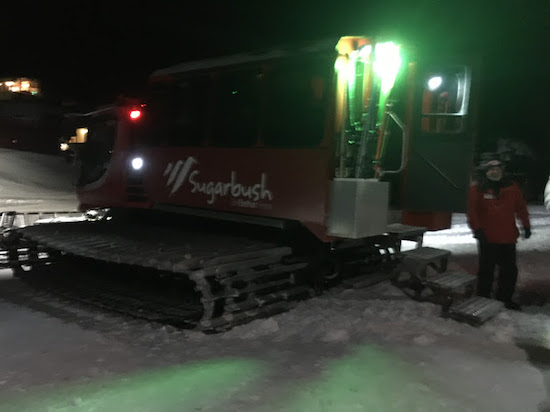 The inside of lodge, which by day is pretty basic, had been totally transformed. Candles, fairy lights, and an overhead elk-horn chandelier provided a magical atmosphere, and a fire in a huge two-sided stone fireplace gave off a warm glow. In the center of the room was a beautifully set table featuring candles, flowers, and china place settings. We were greeted with champagne, cheese fondue, pate, and assorted munchies. Mmmmmmm…
Then came the meal: a magnificent wine-paired four-course dinner. Everything was prepared fresh in the lodge, with all the cooking tools and ingredients transported up the mountain. Yes, it was fantastic:
Once we'd eaten, we got ourselves ready for the trip down. Since our skis, boots, and poles had been carried up the mountain by the snowcat, we had everything we needed…nearly. All of us were provided with  headlamps, along with small blinking lights to mount on the back of our helmets so we could see one another as we skied down (a good idea).
Then we headed outside:
The first part of the run was a long traverse, which was fine. It sort of got you used to the whole idea of skiing in the dark. The headlamps illuminated more than I thought they would. I could see the shapes of the other skiers around me, the small red lights on the back of their helmets blinking like fireflies. And I found myself thinking this won't be bad, after all.
And then we got to the top of the main trail down. We could see the lights of the base spread out before us below, and the moon and stars shining above. Turn off your headlamps, we were advised. Start skiing. Which we did.
And you know what? It was magical. There's something otherworldly about skiing in the dark. You almost feel like a specter gliding over the snow. Maybe it's because it was just so different, maybe it was the sum total of a wonderful evening.  I loved it.
Was it hard to see when we turned out the headlamps? Actually, no. The whiteness of the snow acted as a natural reflector to any available light, and there was enough to see the area around me, as well as the moving, dark shapes of any skiers nearby.
The condition of the slope made it easy, too. The trail had been groomed right before our descent, so it was as smooth as a baby's bottom. I'm sure that made a huge difference; there was really nothing to think about. It was just smooth gliding.
Can anyone do this or was it just something that was done just for my group? Yes, it's open to anyone. Non-skiers can do it, too. They simply ride the cat up the mountain and down. So no one in your party needs to miss out. You can find out more here.
So what'd you think, Ski Diva?
A wonderful dinner at the top followed by a magical ski down one of my favorite mountains. What's not to love? Two Ski Poles way, way up!
Join The Ski Diva
Since 2006, The Ski Diva has been dedicated to providing a place where women can talk about all things skiing in a way that's comfortable, respectful, and inclusive.
Whether you're just getting started or ski 100 days per season, our community of thousands of enthusiastic women skiers can help you find the information you need.
Join the Community