It's my husband new book, The Thief of Auschwitz.
Jon's what I'd call the real deal, and I'm very proud of him. His first book, Finn, published in 2007, was named one of the year's best novels by The Washington Post, The Christian Science Monitor, and The Chicago Tribune, as well as a Notable Book of the Year by the American Library Association. His second book, Kings of the Earth, out in 2011, was also named a year's best by The Washington Post and the #1 summer reading pick by Oprah's O magazine. Strong accolades from some heavy hitters.
The Thief of Auschwitz is at least as good as his others, if not better. Told in two intertwining narratives, the book takes readers on a dual journey: one into the death camp at Auschwitz with Jacob, Eidel, Max, and Lydia Rosen; the other into the heart of Max himself, now an aged but extremely vital — and outspoken — survivor. Max is a renowned painter, and he's about to be honored with a retrospective at the National Gallery in Washington. The truth, though, is that he's been keeping a crucial secret from the art world — indeed from the world at large, and perhaps even from himself — all his life long. The Thief of Auschwitz reveals that secret, along with others that lie in the heart of a family that's called upon to endure — together and separately — the unendurable.
Howard Frank Mosher, author of  Walking to Gatlinburg, called it "the best and most powerful work of fiction about the Holocaust."  And Robert Goolrick, author of A Reliable Wife, said, "There is a painting of a child that figures throughout Jon Clinch's moving and fierce new book, one of many indelible and haunting images he paints in this story of one family's fight to keep love alive in a landscape filled with death. That painting will remain, like the story itself, in your heart forever."
Here's the opening sentence:
"The camp at Auschwitz took one year of my life, and of my own free will I gave it another four."
Blows you away, doesn't it?
It's available in both digital formats and paperback. You can get it from Amazon.com, as well as Barnes & Noble, Kobo, and a host of other places.
Oh, and by the way, his second book, Kings of the Earth, was just released in paperback with an absolutely arresting cover: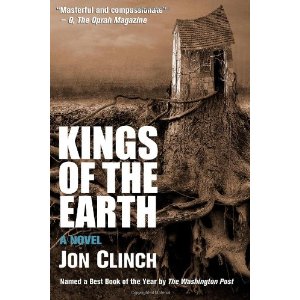 This is fantastic, too. Here's the description of Kings from Amazon.com:
Kings of the Earth is a powerful and haunting story of life, death, and family in rural America. The edge of civilization is closer than we think. It's as close as a primitive farm on the margins of an upstate New York town, where the three Proctor brothers live together in a kind of crumbling stasis. They linger like creatures from an older, wilder, and far less forgiving world—until one of them dies in his sleep, and the other two are suspected of murder. Told in a chorus of voices that span generations, Kings of the Earth examines the bonds of family and blood, faith and suspicion that link not just the brothers but their entire community. Vernon, the oldest brother, is reduced by work and illness to a shambling shadow of himself. Feebleminded Audie lingers by his side, needy and unknowable. And Creed, the youngest of the three and the only one to have seen anything of the world (courtesy of the U.S. Army), struggles with impulses and accusations beyond his understanding. We meet Del Graham, a state trooper torn between his urge to understand the brothers and his desire for justice; Preston Hatch, a neighbor who's spent his life protecting the three men from themselves; and a host of other living, breathing characters whose voices emerge to shape this sprawling but deeply intimate saga of life, death, and the human condition at its limits.
Can you blame me for being proud?
Do yourself a favor. Jon is a genius. Read these books. 'Nuf said.
Join The Ski Diva
Since 2006, we've been dedicated to providing a place where women can talk about skiing in a way that's comfortable and respectful.
Whether you're just getting started or ski 100 days per season, our community of thousands of women skiers can help you find the information you need.
Join the Community