So far, two words sum up this Diva Safari. Well, maybe three: fun, and damn cold.
Yesteray at Mount Snow the highs were 9°F, with a wind chill of -19°.
From the perspective of today, that looks positively balmy. The temperature at the summit of Sugarbush was -20°F — this was without the wind chill. With the wind chill, that's -58°F.  And at the top of the lower lifts, -13°F, or -48°F, with the wind chill.
I know. We're crazy.
So how does one prepare for something like this?
First of all, it's mind set.  You have to be positively nuts about skiing. We've got that in spades. And second, you have to wear layers. Lots and lots of layers. Which I most certainly did. Check this out:  On my lower half, I had on three baselayers of varying thickness, topped by  my insulated ski pants. On my torso, three base layers, a fairly heavy Spyder core sweater, and a  down jacket. On my hands, glove liners and a heat pack under Black Diamond Mercury Mitts. On my feet, thin socks in boots containing Intuition Liners and Hotronics boot heaters. And over my boots, boot gloves. I also wore a face mask, and of course, goggles and a helmet.
I felt like an astronaut heading out to deep space.
Was I warm? Incredibly enough,  yes. My biggest problem was keeping the inside of my goggles frost free. Warm air would back up into my goggles from my face mask, causing them to ice up and make seeing difficult.
Still, we had a good time. I love Sugarbush. It's one of my favorite mountains, so we weren't going to let a little cold get in the way.
Sugarbush is essentially two mountain areas — Lincoln Peak and Glen Ellyn — separated by Slide Brook Basin; you can get from one to the other either by driving a couple miles or by taking a long lift ride over the Basin. Lincoln Peak and Glen Ellyn were separate ski areas that merged in 1979. The main base area is at Lincoln Peak, which has 2,400 vertical feet, a summit elevation of 3,975 feet , and 72 of Sugarbush's 111 runs. Lincoln Peak also has several other smaller peaks: Gadd Peak, Castlerock Peak, and North Lynx Peak.
Sugarbush has a bit of a history. The Kennedy's used to ski here in the early 60's, and long ago it was known as "Mascara Mountain." But Sugarbush's celebrity days are long gone; I think the People Magazine crew heads off to more exotic mountains, like Vail or Aspen, or maybe even Davos or Zermatt, now.
That's not to say this is a place gone to seed. A few years ago they built a completely new base village featuring a lodge designed to look something like a massive Vermont barn. It's lovely. Wood paneled, with a good cafeteria, a pub, and a ski shop. It's really very nice.
And the  trails are great, too. Although there are a few wide-ish groomers here, this isn't a big groomer mountain, like Stratton or Okemo. Instead,  many of the trails wind around, following the mountain's natural contours and introducing surprising intersections and terrain around every bend. There are some really nice glades, too. One of my favorites is Eden, which isn't too too tight, and that's fine with  me.
Here are some mountain stats:
4,000 acres total
508 acres skiable
53 miles of trails
11 wooded areas
4,083 ft  summit elevation
1,483 ft  base elevation
2,600 ft vertical drop
262 inches annual snowfall
68% snowmaking coverage
We had a great — though chilly — time on Lincoln Peak today. No, we did not go to the summit, because of the cold temps. And because we tried to stay in the sun as much as possible, we avoided a number of trails.
A few pics of the day:
The warming hut at the top of the Super Bravo Express Quad (which we definitely used):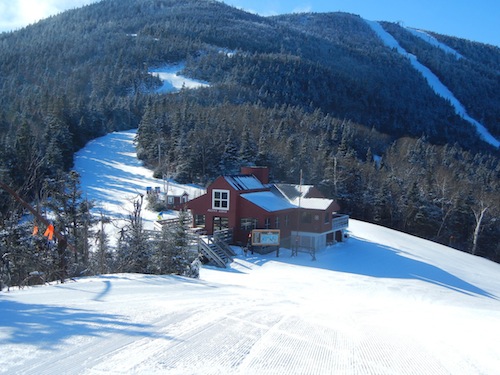 Some of the runs on Castle Rock Peak:
And here, a case of too bundled up to move: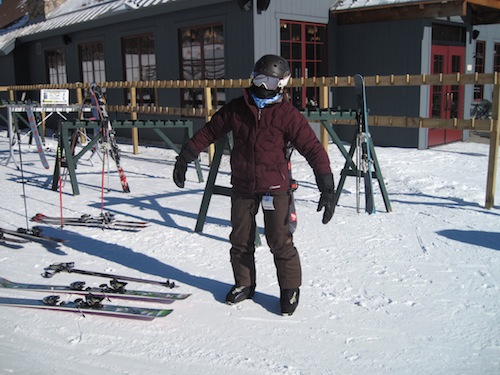 Tomorrow, the cold snap continues. And we move the Safari to Smugglers Notch. So stay tuned.
Join The Ski Diva
Since 2006, we've been dedicated to providing a place where women can talk about skiing in a way that's comfortable and respectful.
Whether you're just getting started or ski 100 days per season, our community of thousands of women skiers can help you find the information you need.
Join the Community