Summer's a rough time for skiers who really don't have any non-skiing passions. I mean, I like to do other things besides ski, but I just don't LOOOOOVE them in quite the same way. So finding an alternate activity is tough. I can't run (I have seriously bad feet), and hiking, though enjoyable, isn't something I do too often.
One of the things I do do is bike — road, not mountain. I have a Specialized Ruby Comp road bike that's about seven years old. I'm not a bike gear head so I can't give you all the specs, but if you're interested in such things, you can read about it here.
Anyway, here it is. I've made a few modifications since I got it. Pink tape on the handlebars, changed out the compact crankset to a triple (yeah, I wanted the granny gears), and most recently, a really cool saddle.
This summer I got a bright safety green helmet, too. I think it makes me extra visible to the cars and trucks out there; I'm a little paranoid about getting hit. I like the visor, too.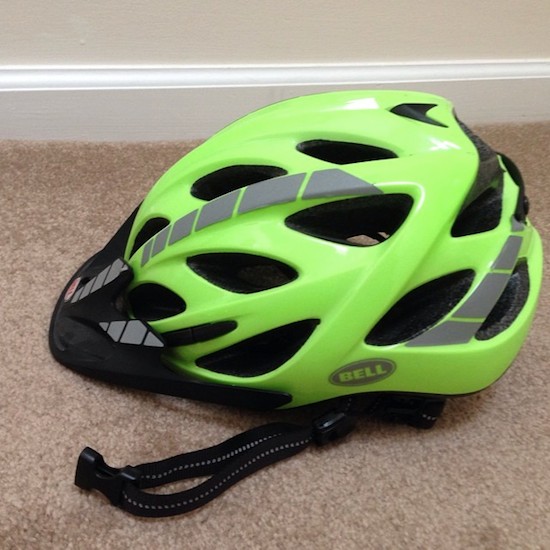 But even with the cool bike, saddle, and helmet, biking in Vermont can be a challenge. I'm not the strongest cyclist out there, and the hilly terrain isn't easy. But the rewards are great. You get to see lots of stunning scenery right up close. Here are a few pics I've taken cycling in the area: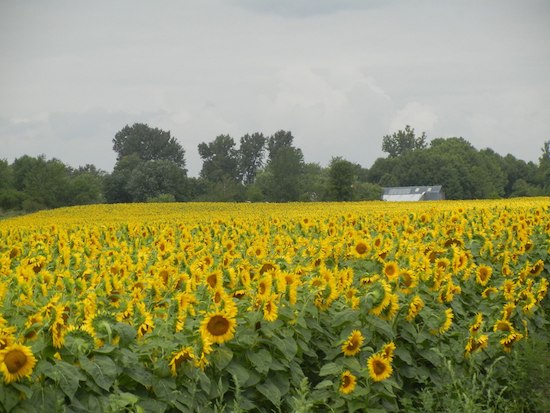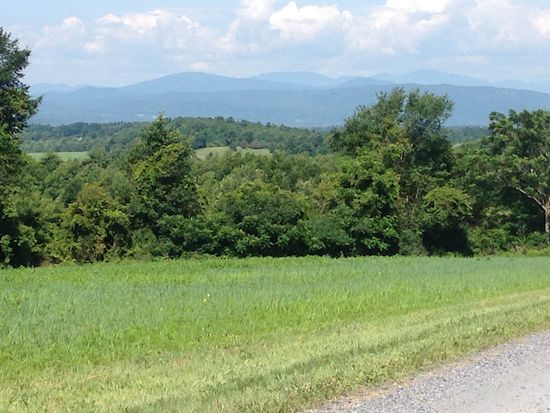 Once in a while you encounter something a bit offbeat, too. Like this sign for "Wendy's Way," a bike path in the Manchester, VT, area dedicated to 10th Mountain Division veteran, Olympian, and long-time Stratton ski instructor, Wendall Cram. Needless to say, I got a real kick biking on it — and an even bigger kick when I happened upon him in the parking lot, when I was loading up my gear.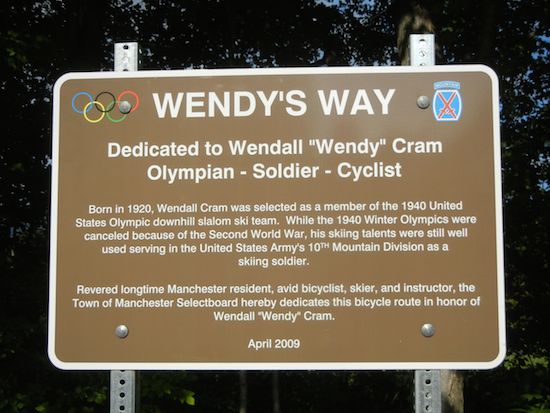 Then there's this marker for Phineas Gage in Cavendish, VT. Phineas was a railroad worker who suffered a traumatic brain injury when an iron spike accidentally passed through his skull with such force that it landed almost 30 yards behind him. Remarkably, he regained consciousness within a few minutes, was able to speak, and survived a 45-minute ride back to his boarding house while sitting in a cart. Although Phineas managed to recover from the accident, his personality was radically altered. His case is among the first evidence suggesting that damage to the frontal lobes could changes aspects of personality and affect socially appropriate interaction. Kind of makes you appreciate helmets, doesn't it?
Anyway, I'm counting down the days to ski season, as I'm sure many of you are, too. Let's see — with a target day of November 15, that's only 96 days from today, August 12. In the meantime, I'll keep on pedaling.
Join The Ski Diva
Since 2006, The Ski Diva has been dedicated to providing a place where women can talk about all things skiing in a way that's comfortable, respectful, and inclusive.
Whether you're just getting started or ski 100 days per season, our community of thousands of enthusiastic women skiers can help you find the information you need.
Join the Community