Some of you may know this already: Each year, members of the Sk Diva forum get together for a week of fun, camaraderie, and lots of skiing. In the past, our trips have included such places as Steamboat, Solitude, Big Sky, Snowbasin, Snowmass, and Tahoe, among others.  And while they've always been great, this year's trip was extremely memorable.
Why? Because this year we went to Jackson Hole. Known for its steep terrain and home to the iconic Corbett's Couloir, Jackson Hole was a great choice for a group of hard charging Ski Divas. And this year there was an added bonus: Record snowfall. Jackson Hole saw 168″ of snow fall during the month of January, breaking the 45 year record at the Rendezvous Bowl plot. The Raymer plot also came in the second deepest ever recorded at 177″, an unprecedented feat of nature rarely ever seen.
Just take a look at the snowfall numbers from the month (we were there from January 25-February 1):
Every day was a powder day. It just kept coming. And coming. And coming. So yes, we actually hit the weather jackpot.
There's already been a ton of stuff written about Jackson Hole. And frankly, you can find it easily enough on line. So instead of boring you with the particulars, I thought I'd present some photos from the trip so you can see for yourself how amazing it truly was.
Ski Divas waiting for the Tram to the top of Rendezvous Bowl:
And here's the Tram:
Divas skiing down Laramie Bowl:
Looking up Rendezvous Bowl: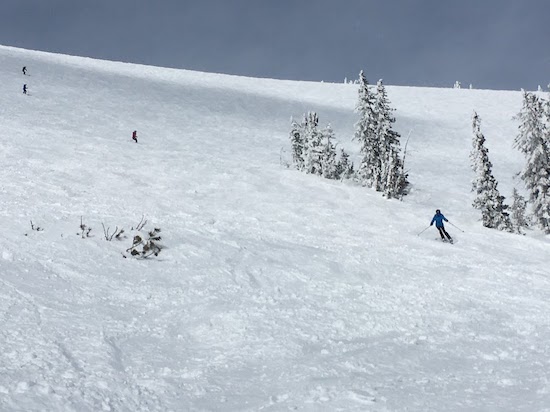 Divas in the trees off the Apres Vous Lift:
Heading up the Apres Vous Lift:
At the bottom of Corbett's Couloir (no, we didn't go down):
Some happy Ski Divas in the snow:
We also spent a day at Grand Targhee in some of the best conditions I've ever skied.
As the crow flies, Grand Targhee isn't that far from Jackson Hole — just on the other side of the mountain — though it takes a 35 minute ride over the Teton Pass, which can be challenging in snowy weather. Our day, however,  started out with a foot of new pow and a bluebird sky — which, I understand, is highly unusual at Targhee:
In the space of a single lift ride, however, our day turned into this. We had to ski by Braille to find our way down. Luckily, one of our Divas, a Targhee local, guided us down.
So we went in for lunch, and by the time we came out, it was bluebird again.
And of course, there was time for plenty of apres.
Here are some of the Divas at Elevated Apres, the Four Seasons 'igloo' champagne bar:
We tried the saddles at the Million Dollar Cowboy Club:
And who can forget the iconic Mangy Moose Bar in Teton Village, complete with the Mangy Moose hanging from the ceiling:
The famous Antler Arch in downtown Jackson:
Every year I say that this was the best Diva West ever. And you know, they all are.
Divas, join us next year. We'd love to have you.
Join The Ski Diva
Since 2006, The Ski Diva has been dedicated to providing a place where women can talk about all things skiing in a way that's comfortable, respectful, and inclusive.
Whether you're just getting started or ski 100 days per season, our community of thousands of enthusiastic women skiers can help you find the information you need.
Join the Community