I'm one of those people who would ski all year, if I could.
Unfortunately, here in New England, that isn't possible. And since I don't have the  bucks to follow the snow to the southern hemisphere, I'm doomed to spend a good portion of the year ski-less. Which means that for me, summer can be less than ideal.
Still, we all have to cope. So this summer, my husband and I spent a week at one of my favorite places: Acadia National Park, on Mount Desert Island, Maine.
If you've never been, take it from me: Go. Acadia is gorgeous. The combination of mountains, ocean, sky, and rocky coast makes for some spectacular scenery. And there's so much to do: hiking, eating lobster, biking, eating lobster, whale watching, and yes, eating lobster. A week wasn't nearly enough.
Like a lot of people, I have tons of vacation pix. Wait — don't leave — I won't post them all. But indulge me. Let me show you a few, just so you can see how wonderful Acadia is.
We stayed on the "quiet side" of the island in Southwest Harbor, a charming fishing village away from the hustle and bustle of the island's biggest and most touristy town, Bar Harbor.
Here's the view from our front porch:
On our first day, we went whale and puffin watching. It was kind of foggy when we were near the puffins, so we couldn't see them very well. But the weather cleared when we set out for the whales, and we were lucky enough to spot some humpbacks. These are pretty incredible creatures, growing to lengths up to 52 feet and weighing as much as 48 tons.
We also biked the Park Loop, a 27-mile paved road that runs pretty much around the perimeter of the park,where you can stop at overlooks to see this: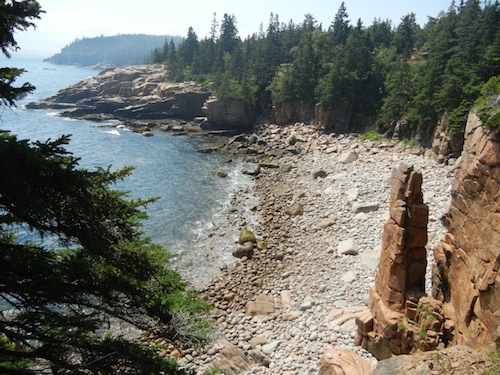 And this: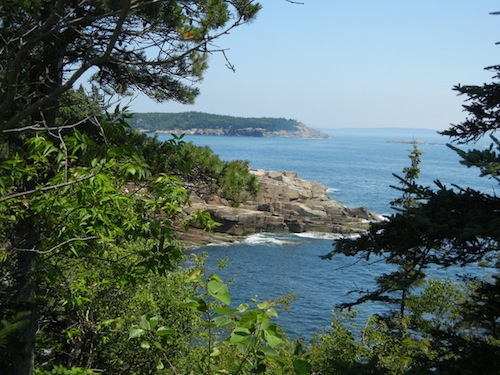 And we biked some of the carriage roads, too. These are 45-miles of crushed stone roads that meander throughout Acadia. We also took a few hikes, including one to the top of Mount Cadillac, the highest point along the Atlantic seaboard and believed to be the first place in the United States to get the sun's rays each day. During our hike to the summit, we had views like this: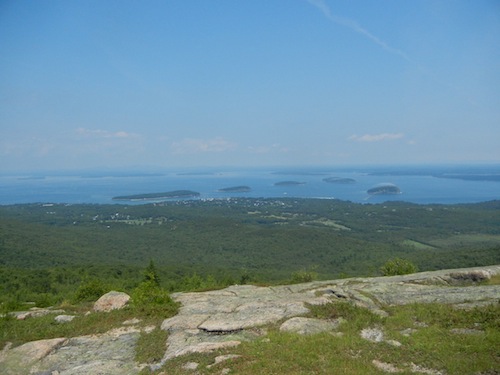 Oh, did I mention we ate lobster? I'm sure it must be the official food of Maine. That, and blueberries.
Hmmm. Maybe I need to rethink this whole summer thing.
How do you cure your summertime blues?