Started on our way today. Decided to break up the drive so we stopped after 5 hours and are spending the night at a B&B in Niagara Falls. It's only a 10 minute walk down to the walk along the rim, so we checked in, walked around for a couple of hours, and now we're holed up in our cozy room, watching the Oscars red carpet.
Here's a nice pic of our room.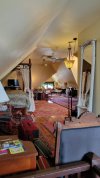 The bed looks like it'll be comfy, too.

Here's a couple of the falls.
Last edited: