I know there's a Diva Dogs thread but I haven't seen any for cats, and my two boys don't want to be left out (more like I can't resist showing them off)

I would love to see pictures of other Divas' cats, other pets, and even dogs are welcome ;) (Actually I'm a huge dog lover and my two boys are going to be getting a doggie friend in the near future).
Stealing the template from the Diva Dogs thread (thank you!), and without further ado...
KIPLING & DANTE!
Born:
July 9, 2009
I First Met Them:
My Bengal breeder saga is a whole 'nother (LONG) story, but suffice to say, after many weeks of impatiently waiting, I met my chubby-wubby boo-boos (yes that is what I call them!) in September 2009 when they arrived in Chicago
They are Natives of:
Hmm...well born in Florida, lived in Chicago their first year, currently living in Montana, and hopefully moving to California!
Their Favorite Hobby:
Ripping apart Da Bird! They are AMAZING jumpers - I need to figure out if I can get a video up. Eating, snuggles, cuddling in my lap, fighting/playing with each other, and of course, napping.
They Absolutely LOVE:
Their mommy

And of course, FOOD. And toys. And their cat tree. They're spoiled!
Profession:
Double trouble troublemakers!
My Favorite Thing to Do With Them:
Snuggle with them - my portable space heaters

My Favorite Memory:
Oh goodness - I love my boys, but maybe the most MEMORABLE time was their first bath.... oh no wait, I do have a better one. So last March I was in Costa Rica for two weeks and hired a cat sitter to come in and feed them, clean the litter box, play with them, etc. Well a couple days before I'm set to fly home, I get an e-mail from her, telling me that K & D got my FREEZER DOOR open, dragged out half the contents, and merrily pulled them throughout the apartment. Of note: coffee ice cream on the off-white hallway carpet which melted by the time she got there, and the frozen chicken which they dragged all the way to the living room couch!
What we have in common:
All three of us are brats
How we Differ the Most:
I like baths!
Picture overload!
At 12 weeks, when I first got them (Dante left, Kipling right):
Sleepy kitties - Dante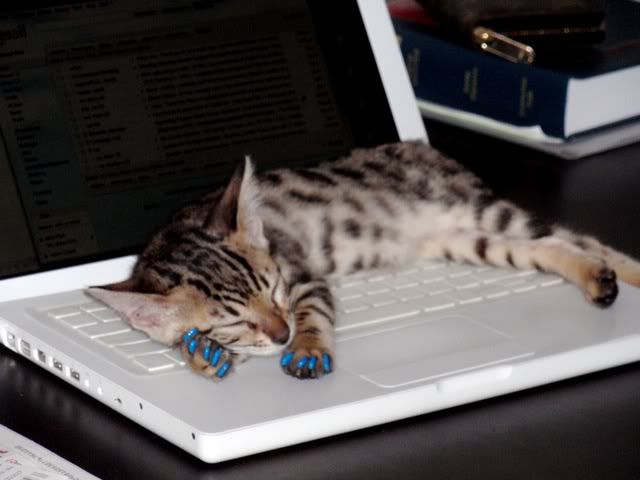 Kipling at 6 mos.: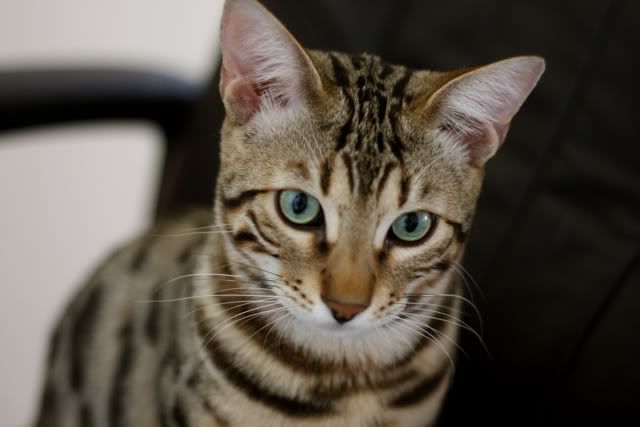 Dante at 6 mos.:
Action shots!